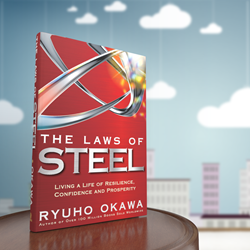 Practical Guidance for the Iron Age: "The Laws of Steel" outlines a path of living a life of resilience, confidence and prosperity.
NEW YORK (PRWEB) March 11, 2020
"The Laws of Steel" is the latest installment of Ryuho Okawa's "Laws" series of books, which are released annually and explore a different aspect of human existence in each volume. In contrast to 2019's "The Laws of Bronze," which primarily explored the aspects of consciousness pertaining to compassion, self-sacrifice and altruism, "The Laws of Steel" explores the themes of personal development, success and humility.
Throughout the first segment of the book, Okawa explores self-development techniques and considers the manner in which we may set higher standards for ourselves, in part by choosing an unconventional approach to success. Okawa explores certain concepts made famous by Dale Carnegie, and elaborates upon them in a manner that can be life changing as concerns positive thought.
Okawa goes on to explore the law of cause and effect, providing insight into his own path of success in such a way that any can benefit from it. Okawa speaks from experience, and describes that which he has tested with success. He likewise explores some of Shakyamuni Buddha's teachings about cause and effect, and examines, for example, the life of Shakyamuni Buddha as a success story of starting from zero and attaining the ultimate enlightenment. An important point of emphasis explored is that success is not made in a single leap, but by consistent effort and determination.
Toward the middle of the book, the subject-matter takes a turn toward the political and begins with a critical analysis of socio-economic matters in Japan and the continuing incorporation of artificial intelligence in the job force. Okawa seems confident that there are many jobs that AI cannot perform efficiently when compared with humans, but also considers the reasons that many companies are presently pursuing AI as a replacement for human workers. Okawa's stance on work is that it forms a central basis of human function and allows us to contribute something to the world at large.
The socio-political commentary continues with a critique of North Korea, which Okawa perceives as a considerably dangerous threat to the world, and discusses ideal outcomes that may arise from meetings between the US and DPRK. Further exploration is made concerning human rights violations that have been committed by China against certain oppressed regions, including South Mongolia, Xinjiang, and Tibet, and he expresses hope for greater democracy and freedom to develop within China. Okawa furthermore expresses criticism of Donald Trump's Iranian policies, but likewise expresses a hope that the Trump Administration can accomplish positive conditions for the world.
The final segment of the book explores spirituality and faith in the context of one's purpose and mission in the world. Themes of humility and the power of making miracles happen in one's life are likewise elaborated upon. The context of Happy Science, the movement of which Okawa is the CEO, is also examined as it pertains to the betterment of the world. Okawa voices these matters in a practical and approachable manner throughout.
"The Laws of Steel" covers a spectrum of material that, though seemingly disconnected, is exposed as being intertwined and having intercorrelation. From positive thought to geopolitics, "The Laws of Steel" is a journey that explores what success is and how to attain it in the contemporary world.
"The Laws of Steel" will be available at all major bookstores nationwide, including Barnes & Noble and Amazon, on March 15, 2020.