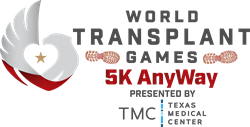 "We took what could have been seen a negative, and we have been creating something extremely positive for the transplant community. For the first time in the Games history, transplant waitlist patients, donor families, and supporters of all kinds are able to compete."
HOUSTON (PRWEB) April 28, 2021
Today the Harris County - Houston Sports Authority rocked out at Toyota Center with the Texas Medical Center, Memorial Hermann, and LifeGift as they celebrated the 2021 World Transplant Games 5k AnyWay's 30-day countdown kickoff. Press conference attendees and 5k AnyWay participants from around the world took part in the festivities in person and online.
April is recognized across the country as National Donate Life Month, so what better time to kick- off the countdown to the 2021 World Transplant Games - the ultimate celebration of life. Press conference attendees were joined by Mayor Sylvester Turner, Houston Rockets Clutch the Bear, Hall of Famer Calvin Murphy, VP of LifeGift Lauren Quinn, and President of the Houston Chamber of Commerce Dr. Laura Murillo as well as 5K participants tuning in from 41 different countries and 39 US states as they painted rocks with symbols of hope and positivity.
Houston was set to host the 2021 World Transplant Games, but when the global pandemic forced the cancellation of the event, the Harris County - Houston Sports Authority created the 5K AnyWay – a virtual race around the world in which participants can complete their 3.1 miles Any Way they want. From May 28-June 4 participants can run, swim, row, walk or get creative – think kicking soccer goals or walking a round of golf – as the race bounces through every time zone and every continent while circling the globe.
"The pandemic gave us its best shot, but we were determined to host this event in a safe way without losing the uplifting spirit and inspiration that pours out of these Games," said Sports Authority CEO Janis Burke. "We took what could have been seen a negative, and we have been creating something extremely positive for the transplant community. For the first time in the Games history, transplant waitlist patients, donor families, and supporters of all kinds are able to compete."
5K AnyWay participants will cap off the week festivities on June 5 with a virtual celebration that will literally, be "OUT OF THIS WORLD." Not only will teams from around the globe have a chance to be recognized for their accomplishments, but they will also take part in an action-packed and star-studded celebration.
The World Transplant Games is designed to unite transplant recipients, donors, donor families, health care workers, and supporters from around the world. All while raising awareness for transplantation and benefiting the World Transplant Games Federation's Fit For Life! youth initiative.
http://www.WTG2021.com
Stay updated with us on Facebook: @WTG2021
#WeAreHoustonSports #5KAnyWay