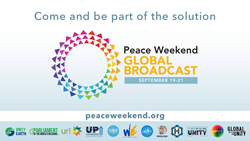 Just as things around the world seem dark and full of chaos, Peace Weekend 2020 represents an opportunity for us all to bring the light of hope, joy and transformation. Building upon decades of great work by many peace pioneers we can help the world shine a little brighter. Ben Bowler - UNITY EARTH
NEW YORK (PRWEB) September 17, 2020
The Global Broadcast features powerful ceremonies, concerts, expert discussions, offers innovative solutions as well as cultural celebrations from around the planet.
Speakers include Deepak Chopra, Jane Goodall, Rev Matthew Fox, Pat McCabe, Ken Kragen, Foster & Kimberly Gamble, Jonathan Granoff, Audrey Kitagawa, Chief Phil Lane Jr and hundreds of change makers all over the world.
Peace Weekend 2020 sees the convergence of multiple online summits and music festivals including the UP Convergence, Peace One Day Live Digital Experience as well as the Shift Festival and Music Festival.
Peace Weekend is the culmination of the 4 year long Road to 2020 including the Caravan of Unity Across America and Around the World, as well as the climax of the 11 Days of Global Unity. The Global Broadcast is an initiative of UNITY EARTH, anchored by Hubcast Media in Vancouver in partnership with ground support from Creative Minds Audio Visual. The event is generously supported by Purpose Earth.
Highlights:
Saturday September 19th

Manifest 2030 Dance Party
Global Release of Calliope's Dream by Kristin Hoffmann & Michael Fitzpatrick
Celebration of Cosmic Mass with Mathew Fox, Mirabai Starr, Pat McCabe and guests - "Return of the Divine Feminine"
UN 75 Panel Discussion
Global Engagement Hour at UP Convergence
Poetry Slam for Peace
Shift Summit & Music Festival
Decentralized Dance Party
Gaia Dance with David Nicol
Sunday September 20th

Peace on Earth by 2030 Public Launch from New York
Shift Summit & Music Festival
One Humanity Institute live Concert from Auschwitz
Infinite Potentials Film Release and Panel
"Dance of Blessings" Ceremony opening First People's Embassy, Stony Point, NYC
Eco-Conscious Music Alliance Special Concert
Global Engagement Hour at UP Convergence
Shift Festival Indigenous Council with Chief Phil Lane Jr.
Interfaith Roundtable of Hawaii
Dance Party from New York City
Global Engagement Hour at UP Convergence
Monday September 21st - International Day of Peace

Peace One Day Broadcast Live from UK and around the world
Shift Summit and Music Festival
Global Engagement Hour at UP Convergence
Peace Day Broadcast from Patagonia
Peace Day Celebrations from Chicago
Peace Day Celebrations from Tokyo
Program From African Union ECOSOCC
Special presentation from Tillman (UN) Chapel in New York featuring the Global Silent minute at 12:00pm EDT
UPLIFT event Concert in Jerusalem and synchronized moment of global Prayer
Featured presentations with global Peacebuilders including Deepak Chopra, Avon Mattison, Ken Kragen, Artie Kornfeld, Jane Goodall, Jonathan Granoff, Foster & Kimberly Gamble and more!
Contact Ben Bowler ben@unity.earth - whatsapp/cell +61 4322504100
or Delanne Young Reid delanney@hubcastmedia.com