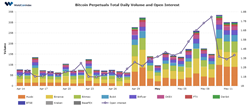 AMSTERDAM (PRWEB) May 14, 2020
WorldCoinIndex is proud to present its cryptocurrency derivative market data platform to the global cryptocurrency community.
Launched in 2014, WorldCoinIndex has been serving the cryptocurrency community for over six years. Over this timeframe, the cryptocurrency ecosystem has developed at a rapid pace, and it doesn't seem to be slowing down. Many new exchanges have joined the business, whereas a variety of new products and services from the traditional financial markets have entered the cryptocurrency space.
Digital currency derivatives represent such an example, given their status as a high-potential and innovative development on the market.
Derivatives could have a significant impact on cryptocurrencies, thanks to the numerous advantages they can provide to investors and the cryptocurrency ecosystem as a whole. Here are several relevant examples:
1. The value of derivatives is linked to the value of the underlying digital currency – thus, derivative contracts can provide risk mitigation to traders during price fluctuations from the underlying asset;
2. They serve as great tools for underlying asset price determination, given the fact that derivates are frequently used to determine asset price. Based on this, the derivative market can generate signals and insights into market movement;
3. Market efficiency and the ability to gain access to the cryptocurrency market without holding any actual cryptocurrency;
4. Opens up more sophisticated trading strategies that investors can leverage to achieve increased long-term profitability.
WorldCoinIndex aggregates information of daily trade volume and open interest from over 900 cryptocurrency derivatives contracts. The derivatives market is categorized in Perpetuals, Futures, and Options - data on each is available via our platform.
At this time, Bitcoin holds the leading rank in the cryptocurrency market and thus, it is natural to see that most of the new derivatives contracts are set for this coin. In fact, 60% of the volume and number of contracts is dominated by Bitcoin. There are a couple of smaller choices as well, such as Ethereum and Ripple, but we expect this market to grow as it reaches maturity. In the long run, other cryptocurrencies will likely be offered.
The average daily volume for crypto derivatives is $40 billion USD, with an open interest of $5 billion USD.
About WorldCoinIndex
WorldCoinIndex is cryptocurrency source offering aggregated price data and news. We supply real-time and historical digital currency prices and trends. Currently, our platform lists over 3000 coins, while being connected to +150 digital asset exchanges, and over 15,000 cryptocurrency markets.
Our Bitcoin Price Index represents an average of bitcoin prices across leading global exchanges and different fiat currencies.