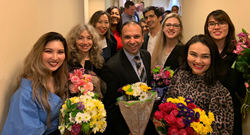 Partner with nine leaders from around the world to create an extreme makeover of a preschool in less than three days. The impossible, is possible.
BROOKLYN, N.Y. (PRWEB) May 16, 2019
In less than three days, WorldLegacy´s NC 175 Leadership Team will complete an extreme makeover of the kitchen and classrooms at Little Berries Preschool in Brooklyn, New York. They will completely renovate the kitchen, classrooms, and get new books and new toys for the children.
WorldLegacy´s NC 175 Leadership Team, based in Chapel Hill, North Carolina, will complete an extreme makeover at Little Berries Preschool in Brooklyn, New York, during the weekend of May 24 - 26th, 2019. Nine individuals from all over the US and abroad will gather to completely renovate the preschool's kitchen, paint classrooms and donate toys and books. The intention is to leave a lasting gift to these children and have them get that they matter.
The team will renovate the kitchen by painting the walls, providing new kitchen cabinets, a dishwasher, a refrigerator, new flooring, new countertops, and refreshing the classrooms with paint, lighting, curtains, rugs, books and motor skill toys. These improvements will enable the staff, children and parents to see infinite possibilities. The preschool's staff will be able to prepare healthy food for the children in a beautiful kitchen. The children can experience an environment where they matter and are cherished. The preschool years are vital to the future development of these children into confident adults.
WorldLegacy is committed to maintaining standards of excellence for the legacy leadership projects, creating commercial grade installations. WorldLegacy has been operating for more than twenty years and trains at least seven leadership programs each year. Over the years, WorldLegacy has donated more than 3.5 million dollars in cash, contributions and labor through the projects. What makes this project unique is that the WorldLegacy Leadership team chooses the domain of their project, must completely design the project from start to finish, cannot use any of their own money or raise money to finance the project, must involve the community to do 75% of the work, and must complete it in three days or less.
The WorldLegacy NC 175 Leadership Team asks for your partnership to make this project possible. Please join us and participate in all aspects of the project. The adventure will begin on Friday, May 24th at 6 p.m. and 8 a.m. both Saturday and Sunday. All work will be completed by Sunday afternoon and will culminate with a ribbon cutting ceremony beginning 6:30 p.m. on Sunday, May 26th. The ceremony will celebrate and honor all donors, volunteers and leaders who gave of their time, talents and resources to make the project a success. WorldLegacy invites the entire New York City community and all those who work and volunteer for this incredible organization to come and join us. Little Berries Preschool is located at 8416 19th Ave, Brooklyn, NY 11214.
About WorldLegacy:
WorldLegacy in Chapel Hill, North Carolina offers a curriculum of transformational leadership programs and accelerated coaching for people committed to creating extraordinary results, having a meaningful life, and impacting the world. For over 20 years, WorldLegacy has been attracting students from all over the world. WorldLegacy is relentless in supporting everyone to live from his or her purpose and to have a life without regrets. For more information, visit our website or contact the WorldLegacy Directors, Dr. Lori Todd or Dr. Rob Katz for more information at 919-678-6000.
About Little Berries Preschool:
Little Berries Preschool is a full day, five days a week, childcare for children two years through six years of age. The daycare and preschool has an educational curriculum and is licensed by the New York City Department of Health. Little Berries believes that education should be fun and engaging.