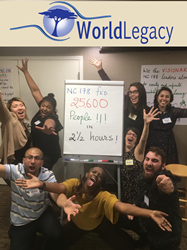 The people who are crazy enough to think they can change the world are the ones who do. - Steve Jobs
PINELLAS PARK, Fla. (PRWEB) October 28, 2019
WorldLegacy's NC178 Leadership Team based in Chapel Hill, NC will complete an extreme makeover at Pace Center for Girls, Pinellas Park, Florida during the weekend of November 1–3, 2019. Seven individuals from all over the United States and abroad will gather to express to the young women who use this facility that they matter. This project aligns with the team's vision of unity and infinite possibility in the world. This project will support girls who are in the justice system, experiencing a family crisis, victims of abuse or are at risk of dropping out of school. In the great room, the team will provide new commercial plank flooring and repaint the walls. In the "calm room," the team will install new carpeting, wall paint and furniture. In addition, inspirational quotes will be placed on the walls.
This WorldLegacy Leadership Team is committed to inspiring future generations of leaders by creating a beautiful space for girls to learn, heal, grow and connect. The intention is to inspire future leaders to be connected to their families and the community. All the volunteers involved with the project will experience being part of something bigger than themselves. They will be part of an extreme makeover project generated from a vision for the world.
This extreme makeover project is the culmination of WorldLegacy's three-month leadership development program. What makes this project unique is that the WorldLegacy Leadership team of seven individuals completely designs the project from start to finish, cannot use any of their own money, and involves the community to be partners and complete 75% of the work. The team has a maximum of two weeks to design and prepare for the project, and the project must be completed in less than three days.
WorldLegacy is committed to maintaining standards of excellence for all legacy leadership projects and the work performed has to be industry grade. WorldLegacy has been operating for more than twenty years and trains at least seven leadership programs each year. Over the years, WorldLegacy has donated more than $3,455,000 in cash, contributions and labor through the projects.
The WorldLegacy NC178 Leadership Team asks for your partnership to make this project possible. Please come and participate with them in all aspects of the work. The adventure will begin on Friday, November 1 at noon and 8:00 am both Saturday and Sunday. All work will be completed by Sunday afternoon and will culminate with a ribbon cutting ceremony beginning at 6:30 p.m. on Sunday, November 3. The ceremony will celebrate and honor all donors, volunteers and leaders who gave of their time, talents and resources to make the project a success. WorldLegacy invites the entire Pinellas Park community and all those who work and volunteer for this incredible organization to come join them. The Pace Center for Girls is located at 4000 Gateway Center Blvd. North, Suite 400, Pinellas Park, FL 33782.
About WorldLegacy:
WorldLegacy in Chapel Hill, NC offers a curriculum of leadership programs and accelerated coaching for people committed to creating extraordinary results, having a meaningful life, and impacting the world. For over 20 years, WorldLegacy has been attracting students from all over the world. At WorldLegacy, we are relentless in supporting everyone to live from his or her purpose and to have a life of no regrets. For more information, visit our website, call 919-678-6000, or contact Dr. Lori Todd or Dr. Rob Katz.
About Pace Center for Girls:
Pace began as a community response to the lack of female-specific programs for girls involved in the juvenile justice system, at risk of dropping out of school, or facing other serious risks. Pace Center has served more than 1,500 girls by offering them and their families with opportunities for a successful future. Pace Center includes academics, counseling, training, and advocacy services.