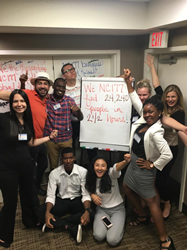 Partner with an extraordinary WorldLegacy Leadership team, who comes from around the world, to create an extreme makeover of a Wellness Room at a facility that helps people with mental illness. The project will be completed in less than three days. The impossible, is possible.
PINELLAS PARK, Fla. (PRWEB) July 30, 2019
WorldLegacy's NC177 Leadership Team, based in Chapel Hill, NC, will complete an extreme makeover of the Vincent House in Pinellas Park, Florida during the weekend of August 2 - 4, 2019. Nine individuals, from all over the United States and abroad, will completely renovate and create a Wellness Room at the Vincent House. They will renovate an existing area by removing a wall, repainting the room, installing new flooring, and adding commercial grade treadmills, exercise bicycles and free weights. In addition, the team will repaint four other rooms. The work will be done in excellence and will provide a safe and comfortable place for individuals with mental illness. The intention is to leave a lasting gift for these people and have them get that they matter.
This WorldLegacy Leadership team is committed to assisting people with mental illness in their lives, to improving social and vocational skills, encouraging full self-expression and connecting people to their families. They intend to support family members in having their loved ones feel free, independent and healthy.
This extreme makeover project is the culmination of WorldLegacy's three-month leadership development program. What makes this project unique is that the WorldLegacy Leadership team must completely design the project from start to finish, cannot use any of their own money, cannot raise money, and must involve the community to be partners and do 75% of the work. The project needs to be completed in three days or less.
WorldLegacy is committed to maintaining standards of excellence for all legacy leadership projects. WorldLegacy has been operating for more than twenty years and trains at least seven leadership programs each year. WorldLegacy has donated more than $3,455,000 in cash, contributions and labor to the world community through these projects. The quality of any work that is done has to be industry grade.
The WorldLegacy NC177 Leadership team asks for your partnership to make this project possible. Please come and participate in all aspects of the work. This extreme adventure will begin on Friday, August 2, at 6 pm and 8:00 am both Saturday and Sunday. All work will be completed by Sunday afternoon and will culminate with a ribbon cutting ceremony beginning 6:30 pm on Sunday, August 4. The ceremony will celebrate and honor all donors, volunteers and leaders who gave of their time, talents and resources to make the project a success. WorldLegacy invites the entire Florida community and all those who work and volunteer for this incredible organization to come join them. The Vincent House is located at 4801 78th Ave N, Pinellas Park, FL 33781.
About WorldLegacy:
WorldLegacy in Chapel Hill, NC offers a curriculum of leadership programs and transformational coaching for people committed to creating extraordinary results, having a meaningful life, and impacting the world. For over 20 years, WorldLegacy has been attracting students from all over the world. WorldLegacy is relentless in supporting everyone to live from his or her purpose and to have a life of no regrets. For more information, visit the website or call Lori Todd or Rob Katz 919-678-6000.
About the Vincent House:
Established in January of 2003, the Vincent House is dedicated to supporting families whose members are recovering from mental illness. The programs provided by the Vincent House are focused on helping their members improve social and vocational skills and become employed in the community.