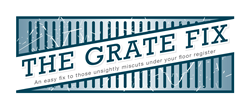 New York, NY (PRWEB) April 09, 2016
World Patent Marketing, a vertically integrated manufacturer and engineer of patented products, announces the Grate Fix, a hardware invention that places a metal flange system in a fixed structure on the floor.
"The Home Builders industry is worth $105 billion," says Scott Cooper, CEO and Creative Director of World Patent Marketing. "Robust growth comes in the wake of increasing per capita disposable income, accommodative interest rates, falling commodity prices and improving overall macroeconomic conditions."
"The floor of houses and of buildings should be the structure that is strongest," says Jerry Shapiro, Director of Manufacturing and World Patent Marketing Inventions. "Floors are the foundation of any structure. It is the ground where our feet rest. However, just like anything in this world, floors are also susceptible to wear and tear."
This hardware invention provides a multi-functional floor system as it addresses the dilemma of cuts or wrongly measured floor spaces. It is made of heavy gauge steel durable, convenient and cost-effective. This hardware invention combines the metal to avoid the loss of heat while connecting the furnace to the duct. It is a fixing structure that makes use of the flange and the furnace receptacle, which is then seated in the duct boot. It seals in the furnace set on the floor and may add aesthetic value by covering uneven cuts of wood, tile, or carpeting.
"The Grate Fixer provides a nice, easy and inexpensive way to cover those unsightly cuts without having to reinstall or replace the floor," says inventor Gary S. "Some DIY-ers want to get a job done quickly and in a cost effective manner. Even experienced contractors who may have been installing flooring around floor registers can cut a few tiles wrong or have the saw accidentally slip and cut more wood or laminate than they originally planned."
Sean Silva, a blogger from Oakland, CA, has this to say about the hardware invention, "The Grate Fixer is perfect for people like me who would turn to professional help only when the things can no longer be fixed by our own hands. This invention easily covers up holes on any floor board, be it linoleum, carpet, vinyl, or tile."
This hardware invention is a must-have for any home-owner as it adds to the flooring's aesthetic value by covering and fixing cuts and other unwanted holes that may be found on the floor.
About World Patent Marketing
World Patent Marketing is an innovation incubator and manufacturer of patented products for inventors and entrepreneurs. The company is broken into eight operating divisions: Research, Patents, Prototyping, Manufacturing, Retail, Web & Apps, Social Media and Capital Ventures.
As a leader in patent invention services, World Patent Marketing is by your side every step of the way, utilizing our capital and experience to protect, prepare, and manufacture your new product idea and get it out to the market. Get a patent with World Patent Marketing and the company will send representatives to trade shows every month in order to further advocate for its clients. It is just part of the world patent marketing cost of doing business.
World Patent Marketing Reviews enjoy an A+ rating with the Better Business Bureau and five star ratings from consumer review sites including: Consumer Affairs, Google, Trustpilot, Customer Lobby, Reseller Ratings, Yelp and My3Cents.
World Patent Marketing is also a proud member of the National Association of Manufacturers, Duns and Bradstreet, the US Chamber of Commerce, the South Florida Chamber of Commerce, the Greater Miami Chamber of Commerce, Association for Manufacturing Excellence, and the New York Inventor Exchange.
Visit the worldpatentmarketing.com website and find out how to patent an invention. Contact us at (888) 926-8174.