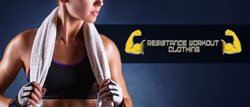 Miami, FL (PRWEB) November 13, 2016
World Patent Marketing, a vertically integrated manufacturer and engineer of patented products, introduces Resistance Workout Apparel, a sportswear invention that seeks to maximize workout results.
"The global sports apparel industry is worth $158 billion," says Scott Cooper, CEO and Creative Director of World Patent Marketing. "Consumers are demanding more versatile wear with wider functionality. There is a lot of opportunity for growth with the introduction of new technologies."
"Working out is extremely important, but with today's busy lifestyles, many people can't find the time for it," says Jerry Shapiro, Director of Manufacturing and World Patent Marketing Inventions. "This sportswear invention will help people get the same workout in a shorter period of time."
Resistance Workout Apparel is a sportswear invention that is designed to optimize exercising out to get the most out of the shortest workout. Working out can be repetitive and take up a lot of time. Most people are too busy to exercise regularly or just don't feel the motivation to do it because they don't enjoy it. This invention was created to make working out more difficult, but also more effective. Resistance Workout Apparel is a set of latex, form-fitting clothing that works different parts of the body to help them develop faster. Rubber resistance pad will target a point on the body and provide resistance against movement in that part of the body. This makes it harder to do simple movements and greatly increases the effort that gets put into an exercise. Resistance Workout Apparel will make it so eve simple workouts take less time and are overall much more effective.
"Our Resistance Workout Apparel was designed to not only enhance, but more importantly to evolve the way people approach their fitness goals," says inventor Jeffrey S. "Our belief is each person should be motivated about their fitness goals, and Resistance Workout Apparel is a great way to do this. Whether you're working out, at work, grocery shopping, mowing the lawn etc., Resistance Workout Apparel will be the new solution to achieving your fitness goals faster."
Resistance Workout Apparel is a sportswear invention that makes exercising more difficult to increase productivity. It places stress points in key locations of the body that make muscles develop faster.
ABOUT WORLD PATENT MARKETING
World Patent Marketing is always looking for new invention ideas. The company provides invention services and is one of the only patent companies that engineers and manufactures its own products. The company is broken into six operating divisions:
Patent Assistance and Research * Prototypes and Manufacturing * Distribution and Retail * Digital Marketing and Social Media * Direct Response TV and Internet Video Production * Patent Licensing & Investments
As a global leader in the patent invention services industry, World Patent Marketing is by your side every step of the way, utilizing its capital and experience to guide the invention process towards a successful product launch so you can be one of the next World Patent Marketing Success Stories.
World Patent Marketing Reviews enjoy an A+ rating with the Better Business Bureau (World Patent Marketing BBB) and has earned five-star ratings from Google and consumer review sites such as Consumer Affairs, Trustpilot, Shopper Approved, Customer Lobby, ResellerRatings, My3Cents and World Patent Marketing Glassdoor.
The CEO of World Patent Marketing, Scott Cooper, is also a Director of The Cooper Idea Foundation is the founder of the New York Inventors Exchange and has also been a proud member of the National Association of Manufacturers, Duns and Bradstreet, the US Chamber of Commerce, the South Florida Chamber of Commerce, the Miami Beach Chamber of Commerce, the Greater Miami Chamber of Commerce, the Association for Manufacturing Excellence and the Society of Plastics Engineers.
Those who are wondering how hard is it to get a patent or how much does it cost to patent an idea, should contact the invention marketing experts.
World Patent Marketing credits its invention success to it's powerful and influential advisory board and its controversial "shock content" approach to invention marketing. According to Scott J. Cooper, the CEO and Creative Director of World Patent Marketing, "complaints from competitors are just part of the World Patent Marketing cost of doing business."
To submit invention ideas, contact World Patent Marketing at (888) 926-8174. Corporate headquarters located at 1680 Meridian Avenue, Miami Beach, Florida 33139.