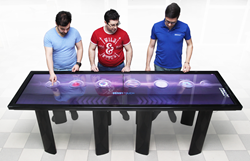 SensyTouch's goal is to provide the best solution for a variety of needs where interaction is a key component of the experience. - Suda Sampath, President & CEO SensyTouch
Irvine, CA (PRWEB) April 18, 2014
SensyTouch, a leader in multi-touch interactive systems, has made another industry-breaking mark in the world of multi-touch displays, with the introduction of the world's sleekest multi-touch table measuring 100 inches. This first of its kind was created for the banking industry.
"SensyTouch is known for engineering ultimate, custom solutions that are tops in technology and elegant in design," said Suda Sampath, president and CEO of SensyTouch.
The 100-inch interactive, multi-touch display supports 48 simultaneous zero-pressure touches and can conveniently accommodate up to ten simultaneous users around its sleek frame for an immersive touch experience. The display table is less than 3-inches in depth.
In addition to banking, other industries in which this multi-touch display system can be used are education, museum, entertainment and auto.
The multi-touch table is available in full HD or Ultra HD (3840 × 2160).
SensyTouch, develops, engineers and markets a premium range of multi-touch solutions, featuring slender, elegant design, responsive, fast interaction for a broad range of industries. SensyTouch is headquartered in Irvine, Calif.
https://www.facebook.com/sensytouch
http://www.youtube.com/user/SENSYTOUCH/videos
To learn more about SensyTouch multi-touch table, multi-touch kiosk, multi-touch wall and multi-touch software, please call 1 (800) 385-5814 or email info(at)sensytouch(dot)com.