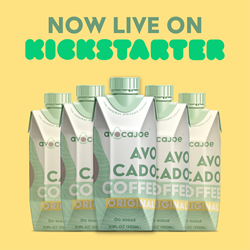 "Our formula is the result of years of development and testing. We've perfected dairy free butter coffee and made it taste amazing! The functional beverage market is exploding and I'm confident Avocajoe can be a major player." – Clint Bondzuk, Founder and CEO of Avocajoe Brands
LAS VEGAS (PRWEB) May 26, 2020
Avocajoe Brands Inc. has launched a Kickstarter campaign to help bring their flagship avocado coffee to market. Avocajoe is the next generation of butter coffee – it delivers multiple health benefits without relying on dairy or bad-for-you saturated fat. The revolutionary drink offers a new way for the health-conscious consumer to add essential monounsaturated fats and micronutrients to their diet.
"Our formula is the result of years of development and testing. We've perfected dairy free butter coffee and made it taste amazing! The functional beverage market is exploding and I'm confident Avocajoe can be a major player." – Clint Bondzuk, Founder and CEO of Avocajoe Brands
Avocajoe Original Avocado Coffee is 100% plant based, nut and grain free, non-GMO, naturally sweetened with monk fruit and is made with one of the world's healthiest foods, avocado! The formula provides all the benefits of traditional butter coffee without bad fats and cholesterol.
Additional benefits of Avocajoe include:

2/3rds of an avocado's worth of healthy fats in every container
as much caffeine as your morning cup of coffee
100% plant-based ingredients including ground avocado, avocado oil and cold brew coffee
0g of sugar
It's vegan, gluten free, keto friendly – compatible with almost every lifestyle!
The Kickstarter campaign is open to backers for 30 days beginning May 26th.
About Avocajoe Brands
Avocajoe Brands is a beverage and nutrition startup, focused on increasing consumption of heart and brain healthy monounsaturated fats to the masses through a line of avocado based products. After the launch of its flagship Original Avocado Coffee, the company plans to add 2 additional coffee flavors, and a line of coffee free children's beverages to support brain development and encourage a healthy childhood.
Avocajoe Brands is a proud member of 1% for the Planet.