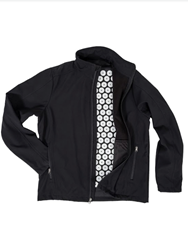 RICHMOND, Texas (PRWEB) October 31, 2018
Acupressure has been used for thousands of years in Asia and is believed to relieve pain, promote healing, and induce relaxation. Firm pressure against the skin on these acupressure points has been found to stimulate the body to release helpful hormones, like endorphins and oxytocin, which supply people with energy, pain relief, and feelings of happiness. With the Yogi Jacket, self-healing is possible. Today the innovative acupressure jacket has launched on Kickstarter with a funding goal of $20,000.
Comprised of over 7,000 spikes, the Yogi Jacket provides the feel and benefits of a professional acupressure treatment for a fraction of the price. The jacket works by relieving back pain and promotes relaxation of tense muscles throughout the day, ultimately increasing blood circulation.
Comfortable, yet lightweight, the Yogi Jacket's exterior is made with a woven shell and water-resistant film while the jacket's interior is lined with microfleece. Additionally, users can wear their Yogi Jacket with or without the spikes pad as it can easily be removed at any time.
In 2015, the creator of Yogi Jacket was suffering from back pain and low energy because of what the modern life throws at us every day. He tried acupressure therapy which worked wonders to relieve back pain and reducing the stress. To have something readily accessible on the go, he developed yogi jacket in his own basement. He started incorporating it into the daily routine at home, work and anywhere he went consistently and experienced increased energy levels, more alertness, reduction in stress and back pain, improved quality of sleep along with various other benefits.
The Yogi Jacket's discreet design lets consumers put their well being first, without anyone else knowing. Also offered in a hoodie style, the Yogi Jacket is available in both black and navy, allowing wearers to match the jacket to their personal style preference.
Starting at just $79, the Yogi Jacket is a natural solution that relieves many common problems faced by consumers every day. To learn more, visit the campaign at http://pr.go2.fund/yogi.
About Yogi Jacket LLC
Based out of Texas, Yogi Jacket, LLC is a product design firm that specializes in designing creative lifestyle products. To learn more, visit https://producthype.co/yogijacket/.