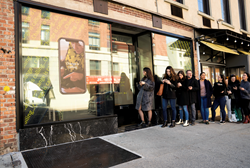 NEW YORK (PRWEB) March 06, 2020
The average American household has six idle electronic devices collecting dust which is why one of the pioneers of electronics recommerce, ecoATM, has partnered with education technology non-profit, Rumie to open the world's first reverse cell phone store, A Good Call. The Manhattan pop-up is purchasing New Yorkers' unused smartphones and sending them to women living in underserved countries with limited access to schools, educational tools, and technology.
Visitors to A Good Call, which opened today to coincide with International Women's Day on Sunday, lined around the block from 8am to trade in piles of old handsets. New Yorkers will be reimbursed with cash ranging from $3 to $480 in exchange for their unused smartphones. Phones will be sent to young women within Rumie's network which spans countries such as Afghanistan, Rwanda, and Lebanon.
"In Afghanistan alone, of the 3.7 million children who don't go to school, 2.2 million of them are girls," explains Tariq Fancy, Rumie Founder.
"There's a severe lack of physical schools, qualified teachers, sanitation facilities within active schools and harmful gender norms, all which pose a barrier for bright, young women who are eager to learn. Smartphones are one way of increasing their opportunities. Through the Rumie App, they are able to access hundreds of free learning resources in the palm of their hand. We have already helped 35,000 learners around the world to have a better chance at life and we hope that New Yorkers will help us to increase this significance," Fancy continues.
Within the store, visitors are able to hear from young women in Afghanistan who have had their lives enhanced through a smartphone-enabled education. They share stories of being forced to flee cities and overpopulated classrooms. Through access to The Rumie App, they now speak of becoming doctors, lawyers and journalists, and receiving an education that they previously never deemed possible.
"Education is a human right, no matter your gender, yet sadly so many young women are still denied one," says Yanyan Ji, Chief Marketing Officer ecoATM. "This International Women's Day we hope to empower New Yorkers to realize they can make a huge difference, just by trading in their old smartphone at our pop-up store. We look forward to working together with as many people as possible to make a positive change in the lives of these young women."
Inspired by the unforeseen levels of demand from New Yorkers for A Good Call, ecoATM and Rumie are already considering bringing the reverse cell phone store to more cities across the United States.
A Good Call is located at 347 Broome Street and is open Friday and Saturday, March 6th and 7th from 10am to 7pm and on Sunday March 8th from 11am – 6pm. It is free to enter and any form of functional iPhone or Android devices 5.1+ or up will be accepted. All phones will be tested on-site by the expert ecoATM team who will calculate the trade-in value.
Anyone across the country wanting to get involved can head to the Rumie website and make a monetary donation at http://www.rumie.org/donate/.
For interview opportunities and further information and imagery, please contact:
Lauren Kaufman
lauren@manifest.nyc | 631 747 2233
Natalie DiBona
natalie@manifest.nyc | 413 310 5783
About ecoATM:
ecoATM kiosks offer three main benefits to consumers: instant cash payment, conveniently located, safe and secure kiosks, and the assurance that devices will be responsibly recycled or given new life. ecoATM kiosks are all about instant reward, with no salesperson, no fine-print and no wait – you get paid cash, on the spot, for the devices you no longer use. Consumers simply bring their unused devices to the kiosk of their choice, answer a few questions about the device, confirm their identity, and then receive their payment. ecoATM operates over 4,300 kiosks, with more continuing to roll out. Kiosks are conveniently located in malls, large retailers and grocery stores in 48 U.S. states and in the UK and Germany. To locate the nearest kiosk, visit http://www.ecoATM.com/locator.
About Rumie:
Rumie is a non-profit that creates innovative technology solutions to facilitate free online learning content creation and digital distribution. This content is delivered to learners around the world on low-cost devices such as recycled smartphones - and works even when learners have little or no Internet connectivity. The Rumie Solution has been implemented in partnership with local organizations and communities in 29 countries. These programs have impacted over 35,000 learners worldwide, ranging from children as young as three to senior citizens. To learn more visit http://www.rumie.org