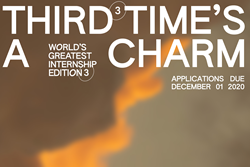 Instead of a right of passage, we asked ourselves how we could make internships impactful for people and the agency. We wanted to find a way to immerse emerging talent in the business of creativity in an effective way
SAN FRANCISCO (PRWEB) July 15, 2020
World's Great Internship (WGI), imagined by Butchershop and in partnership with Factry, Gretel and Prophet, announced today that applications are now open for Edition 3 of the "World's Greatest Internship" experience. New this year, WGI has evolved beyond the internship experience alone to launch the WGI Talent Network, a platform for hiring emerging creatives now. Applicants who are vetted by partnership agencies, whether selected or not for the internship experience, have the opportunity to join the new WGI Talent Network.
The brainchild of business and brand consultancy Butchershop, the WGI Talent Network is a hiring tool for companies ready to put their money where their mouth is and support the hiring of diverse emerging creative talent from around the world. Emerging creatives apply for free, and in turn, all applicants are vetted by partner agencies, ensuring that the creative talent is extraordinary in its ability to get noticed. Creative talent portfolios are then showcased for member agencies to seek out new hires and start conversations. Requiring partner agencies to have consensus on their talent selections creates a pool of emerging creative talent that is ready to contribute immediately to client work and agency culture in meaningful ways.
"We're truly at an advantage in that we've been able to build WGI and the internship experience over the past three years, founded on our core value of helping people. Many of us have experienced internships that just didn't deliver. Instead of a right of passage, we asked ourselves how we could make internships impactful for people and the agency. We wanted to find a way to immerse emerging talent in the business of creativity in an effective way," said Trevor Hubbard, CEO and Executive Creative Director of Butchershop. "It has only become more glaringly obvious to us and other agencies in the industry just how important it is to elevate undiscovered voices from all walks of life. We stand with folks trying to make a way for themselves, and for companies that are willing to invest in diverse talent in a real way."
Now in its third year, the internship experience will select interns to travel around North America with program stops in New York, Montreal and San Francisco, spending two months at three agencies, totalling six months. As the foundational aspect of WGI, the internship experience application is open to everyone. Interns selected are fully compensated, with salary, travel and accommodations paid by the program through agency partners.
Another perk of the WGI Talent Network, creative agencies and companies that make a hire are eligible for a generous 50% discount to send any new employee to a one week workshop at Factry in Montreal. Factry is a school of creative science that forges creative minds capable of finding innovative solutions to contemporary problems. They offer training for students and professionals. Full teams can even join for a fraction of the normal cost, leveling skills up together for a more collaborative work environment. Butchershop, WGI, and Factry co-created the training program and put it into practice for the WGI Edition 2 internship experience in which 20 people attended for an intense week in Montreal with great success.
The internship experience will postpone commencement until Spring 2021, with selections announced shortly before. More importantly, all applicants will immediately, once vetted, be integrated into the talent community, paving the way for potential employment today.
For interns looking to apply to the internship experience and creative companies interested in hiring the best-in-class emerging creatives, please visit https://www.worldsgreatestinternship.co/. Follow us on Instagram @worldsgreatestinternship
To stay up to date on everything Butchershop is creating, please visit http://www.butchershop.co or follow us on Instagram @butchershopcreative.
About Butchershop
Butchershop is an independent, award-winning brand consultancy based in San Francisco. Our vision is to build a creative agency for the future of culture and commerce with our mission to help leaders turn big ideas into brands people love. We do this through our expertise in brand, organizational, and experience design. Our client partners range from B2B, B2C, early stage to late stage startups and Fortune 500 teams across all verticals that includes work with Okta, Zenefits, Lightspeed Venture Partners, Good Eggs, Nike, Converse, and Mountain Hardwear.