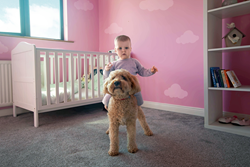 It's the secret lives of babies, and we've never seen them so clearly.
WOONSOCKET, R.I. (PRWEB) October 21, 2019
The last time the world saw Hannah Crowley, she was an infant perched above a lake, dangling from a banister, steering a car and making parents everywhere lose their collective minds.
Her father Stephen's Photoshop skills made the images possible. Now he and Hannah are back, working on a new project to help kids facing real-life danger.
In 2017, Hannah was emerging from hospitalization and treatment for a rare immune disorder, which involved chemotherapy and a bone marrow transplant. Stephen took photos of her out and about for the first time, and edited her into mischievous scenes to entertain their family. He shared the photos on Reddit and soon after, Mashable, CBS News, BuzzFeed, The A.V. Club and other news outlets came calling.
Today, Hannah is a healthy preschooler and "the happiest kid in the world," said Stephen. "She could not have made a more perfect recovery."
Baby gear brand Summer remembered Stephen's design wizardry and asked him to team up on a project. Summer wanted to showcase the high resolution of its new Baby Pixel Zoom HD video baby monitor by revealing what babies do when nobody's looking.
Stephen created a series of new images that would make any parent drop their can of White Claw and run for the nursery.
"It's the secret lives of babies, and we've never seen them so clearly," said Summer VP Brand Marketing Jen Johnson.
"Caught in the Act" shows a baby scaling a shelf to reach a toy, escaping her crib and perched on the family dog – all from a baby monitor's perspective.
For the shoot, Stephen enlisted the best photo assistant he knew: Hannah.
In the video trailer, Hannah, now 4 years old, can be seen assembling props, wearing her dad's camera and helping him line up the perfect shot with a friend's daughter.
Through the end of the year, Summer has committed to matching 10% of sales on the Baby Pixel Zoom HD monitor on summerinfant.com to Be The Match bone marrow registry, which Stephen credits with Hannah's survival.
"There were only three potential matches for Hannah in the world, and Be The Match Registry is where we found them," said Stephen.
"The funds raised through this partnership will help patients, just like Hannah, receive the care and treatment they need for a second chance at life," said Be The Match Chief Advancement Officer Joy King.
"Hannah definitely inherited her dad's sense of humor, and we love watching her on the other side of the camera for something that could help other kids survive a journey like hers," said Johnson.
To see Stephen and Hannah's latest creations and participate in the project, visit summerinfant.com/caughtintheact.
About Summer™
Summer is dedicated to making bath time, meal time, play time and every time in between special for parents and children. For more than three decades, Summer's thoughtfully designed, pioneering infant and toddler care products have made family life easier, safer and more fun. For more, visit summerinfant.com.
About SUMR™ Brands
Based in Woonsocket, Rhode Island, SUMR Brands is driven by a commitment to people, product, and purpose. The Company is made up of a diverse group of experts with a passion to make family life better. For more, visit sumrbrands.com.
About Be The Match®
For people with life-threatening blood cancers — like leukemia and lymphoma — or other diseases, a cure exists. Be The Match connects patients with their donor match for a life-saving marrow or umbilical cord blood transplant. People can contribute to the cure as a member of the Be The Match Registry®, financial contributor or volunteer. Be The Match provides patients and their families one-on-one support, education, and guidance before, during and after transplant. Be The Match is operated by the National Marrow Donor Program® (NMDP), a nonprofit organization that matches patients with donors, educates health care professionals and conducts research through its research program, CIBMTR® (Center for International Blood and Marrow Transplant Research®), so more lives can be saved. To learn more about the cure, visit BeTheMatch.org or call 1 (800) MARROW-2.