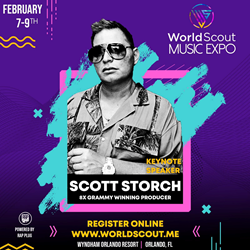 The WorldScout Music Expo provides a platform for indie artists to audition for up to 40 major record labels, producers, publishing companies and artist managers from LA, NY, Miami and Atlanta.
LOS ANGELES (PRWEB) January 30, 2020
WorldScout Music Expo is renowned for its ingenious live event experience aimed at connecting aspiring, new artists with major music industry decision-makers in the business of breaking new artists. The company is pleased to announce the WorldScout Music Expo is scheduled to be held on February 7 – 9, 2020 at the Wyndham Orlando Resort International Drive, Orlando, Florida. The event provides a platform for upcoming artists to showcase their talents and take their indie career to the next level.
Commenting on the event, WorldScout Founder and CEO, Cindy Cooper said, "WorldScout Music Expo is a game-changing weekend conference connecting indie artists from all genres and experience levels with 40 major music industry decision-makers coming to discover new talent among local Florida artists."
During the weekend event, attendees will have the opportunity to audition for record labels and music producers including Capitol Records, Epic Records, QC Records, Terror Squad, Neon16, Hollywood Records, and Dreamville Records plus Diamond and Platinum Producers such as Mike Zombie, Fresh Ayr, Jay E, Koko Bridges and more. Speakers will be on the ground to deliver educational speeches and seminars about their personal journey into music as well knowledge and tips designed to help project indie careers to the next level. The expo attendees include singers, rappers, songwriters, music producers, musicians, managers, promoters, and music lovers who want to be exposed to the music industry.
WorldScout Music Expo Keynote Speaker is the 8-time Grammy Winning Producer, Scott Storch, known for an endless list of smash hits, including Justin Timberlake's "Cry Me a River," Beyoncé's "Baby Boy," Mario's "Let Me Love You," Fat Joe's "Lean Back "50 Cent's "Candy Shop," and Chris Brown's "Run It!".
Other speakers that will grace the event include Steve Lobel, the legendary artist manager who has worked with the late Nipsey Hussle, Bone Thugs n' Harmony, Run DMC, Fat Joe, and, currently, Scott Storch; Mark Cheatham of CAA, the touring agent for Cardi B, Justin Bieber and more; Mike Zombie, the multi-platinum producer and artist known for "Started from the Bottom" with Drake and many more!
"We have registrants coming from all over the country, but our focus with the Orlando Expo is to make sure local Florida indie artists realize we're bringing the music industry right to their backyard. I don't want anyone in the music community to miss this opportunity," said Cooper.
There are three tiers of registration and ticket prices for the WorldScout Music Expo. Two of the three options allow participants to audition with a verse and a hook for A&R from today's hottest record labels, music publishers, Grammy-winning and Grammy Nominated music producers & engineers, and top artist managers. The third tier allows access to all speakers and seminars but does not include the ability to audition.
The Expo takes place at the Wyndham Orlando Resort International Drive, 8001 International Drive, Orlando, Florida 32819. WorldScout has made an arrangement for accommodation by negotiating a great deal for attendees to stay at the venue that includes the Resort Fee and FREE Parking. Rooms at this rate are very limited so call soon. For Room Reservations: CALL 407-351-2420 and ask for the WorldScout Event Rate.
For more information about WorldScout Music Expo and ticket purchase, please visit http://www.worldscout.me