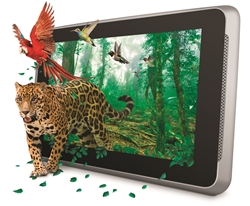 There is a lack of good quality cost effective options for savvy travellers, which is why we launched the WorldSIM 3G. Its designed for people on the move who want to stay connected without the worry of excessive roaming charges
(PRWEB UK) 15 June 2015
International roaming specialist WorldSIM has taken a leap into the tablet market with the launch of the WorldSIM 7" 3G tablet.
Designed with travel in mind, the WorldSIM 3G 7" inch Android tablet has two front facing speakers and excellent graphics, making it great for watching movies and gaming. The tablet also features a front and back camera with flash to capture all the favourite holiday moments.
According to a recent WorldSIM survey, more than half of those surveyed (52%) admitted they don't use their phone or tablet when abroad due to rising roaming fees. Thankfully, the WorldSIM 3G also comes with a free Roaming SIM card so travellers can get online for less practically anywhere in the world, and 3G connectivity means the tablet can make and receive calls in almost 200 countries and access low cost data in over 135 countries. The expandable Micro SD memory slot ensures travellers can view and save files such as music, movies and pictures.
Arif Reza, CEO of WorldSIM said: "The tablet market still has huge growth potential, with IDC reporting an 11% increase in the second quarter of 2014. Unfortunately there is a lack of good quality cost effective options for savvy travellers, which is why we launched the WorldSIM 3G. Available for less than £200 the tablet is designed for people on the move who want to stay entertained and connected to friends and family without the worry of excessive roaming charges."
This 3G tablet operates on Android 4.1 Jellybean software with a 1gGHz Quad-core processor and comes with 1GB RAM and 8GB ROM. The WorldSIM tablet is available now at http://www.worldsim.com with an RRP of £199.99, which includes a travel SIM and includes credit.
About WorldSIM
WorldSIM are pioneers in international roaming and over the past 10 years they have developed a range of products to reduce the costs of staying connected whilst abroad. With a unique approach, WorldSIM are able to save travellers up to 85% on their roaming charges, data roaming and international calls.