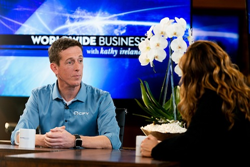 "We have to become more efficient to sustain the growth, providing a good food supply to the population"
LOS ANGELES (PRWEB) April 02, 2020
Worldwide Business with kathy ireland® is excited to announce an exclusive interview with Raf Peeters, CEO of Qcify to discuss the company's innovations and automated quality control for the food processing industry.
A network working 24/7, the system collaborates with machines around the world to eventually have every machine in every location viewing everything the exact same way. The user-friendly interface and cutting-edge technology work together to allow workers to test 10 to 20 times the number of samples in the same time period with greater accuracy than ever before.
"The food industry is under enormous pressure because population is growing at a rapid pace but food production is not following at the same rate," says Peeters. "We have to become more efficient to sustain the growth, providing a good food supply to the population. There is also a big increase in labor costs. As consumers, we aren't happy that the prices increase at the same pace, and the only way to overcome this is by becoming more efficient."
The science behind Qcify makes automated inspections 6 to 12 times faster than a typical worker that can only analyze one food sample for quality every 15 minutes. Automation helps with convenience and offers less pressure, helping people evolve from an execution role one of supervision. The Qcify 3D vision system records whole images of products and is analyzed using AI to look at products like humans do. This helps increase grow production volumes while operating more efficiently.
For more information about Qcify, visit qcify.com and tune in to Fox Business Network as sponsored content on Sunday, April 5, 2020 at 2:00pm ET. Please refer to your local TV listings for the exact time in your area.
About Worldwide Business with kathy ireland®
Worldwide Business with kathy ireland® is a weekly half-hour show featuring global executives sharing their business insights and framing the opportunities shaping their industries. Hosted by a business mogul, Kathy Ireland interviews some of the brightest minds in business today. The show broadcasts on Fox Business Network as part of their sponsored content line up and globally on Bloomberg Television. Worldwide Business with kathy ireland® extends beyond the weekly on-air program with digital content delivered on various video platforms and across social media.
Visit worldwidebusinesswithkathyireland.com for detailed airing schedules or check local listings.