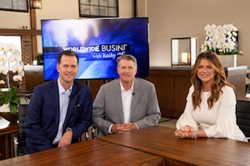 True Velocity Ammunition Introduce Their Innovative Technology That Better Equips Soldiers and Police Officers
LOS ANGELES (PRWEB) September 13, 2019
Worldwide Business with kathy ireland® is pleased to announce an exclusive interview with True Velocity Ammunition CEO Kevin Boscamp and President Chris Tedford to discuss their game-changing technology for military and law enforcement professionals.
True Velocity Ammunition is a technology company that manufactures the most advanced composite cased munitions available. The company holds more than thirty proprietary design and manufacturing method patents to their composite cased ammunition. True Velocity's ammunition meets DoD ballistic and function test requirements in all current weapon systems.
Tedford says that True Velocity Ammunition's technology generates strategic and tactical advantages, including better performance than the polymer and brass ammunition available in today's market. He explains, "There are more than thirty benefits over the legacy product. Some of them range from thirty percent lighter on average, which helps the war fighter and it helps logistics. Also, improved accuracy over the legacy product. We're also able to be backwards compatible, which is a huge benefit."
For more information about True Velocity Ammunition, visit TrueVelocityInc.com and tune in to Fox Business Network as sponsored content on Sunday, September 15, 2019 at 5:30pm EST and Bloomberg International on Saturday, September 14, 2019 at 7:30pm GMT and Sunday, September 15, 2019 at 10:30am D.F. and 3:00pm HKT.
About Worldwide Business with kathy ireland®
Worldwide Business with kathy ireland® is a weekly half-hour show featuring global executives sharing their business insights and framing the opportunities shaping their industries. Hosted by a business mogul, Kathy Ireland interviews some of the brightest minds in business today. The show broadcasts on Fox Business Network as part of their sponsored content line up and globally on Bloomberg International. Worldwide Business with kathy ireland® extends beyond the weekly on-air program with digital content delivered on various video platforms and across social media.
Visit http://www.tvwwb.com for detailed airing schedules or check local listings.