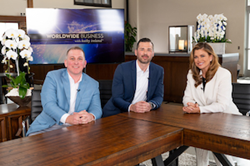 Warehouse Anywhere is an innovative company that provides warehousing and distribution services in a completely new way
LOS ANGELES (PRWEB) August 16, 2019
Worldwide Business with kathy ireland® is pleased to announce an exclusive interview with Warehouse Anywhere President Steven Ciemcioch and Vice President of Business Services Steve Syverson to discuss their revolutionary warehousing and distribution services.
Warehouse Anywhere is an innovative company that provides warehousing and distribution services in a completely new way. Their services combine storage asset management with groundbreaking inventory tracking technology to install affordable mini-distribution centers in any city. Warehouse Anywhere serves various industries, including e-commerce, medical, pharma, service/repair and more. Warehouse Anywhere was founded in 2012 and is headquartered in Buffalo, New York. Ciemcioch says that Warehouse Anywhere truly stands out in the marketplace.
He explains, "The biggest differentiators that we possess are our footprint and our technology. In utilizing self-storage properties, that gives us the ability to offer our customers flexibility that differs from traditional warehousing. This includes flexible leasing terms, no minimum square footage requirements, standardized pricing model and -- most importantly -- real-time inventory transparency."
For more information about Warehouse Anywhere, visit WarehouseAnywhere.com and tune in to Fox Business Network as sponsored content on Sunday, August 18, 2019 at 5:30pm EST and Bloomberg International on Saturday, August 17, 2019 at 7:30pm GMT and Sunday, August 18, 2019 at 10:30am D.F. and 3:00pm HKT.
About Worldwide Business with kathy ireland®
Worldwide Business with kathy ireland® is a weekly half-hour show featuring global executives sharing their business insights and framing the opportunities shaping their industries. Hosted by a business mogul, Kathy Ireland interviews some of the brightest minds in business today. The show broadcasts on Fox Business Network as part of their sponsored content line up and globally on Bloomberg International. Worldwide Business with kathy ireland® extends beyond the weekly on-air program with digital content delivered on various video platforms and across social media.
Visit http://www.tvwwb.com for detailed airing schedules or check local listings.