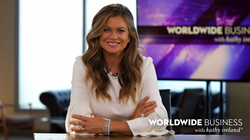 Worldwide Business with kathy ireland® is pleased to announce to their audience that they will be airing their successful business program on Fox Business Network as sponsored content this Sunday, 2/2 at 5:30pm ET before The Big Game.
LOS ANGELES (PRWEB) January 31, 2020
Worldwide Business with kathy ireland® is pleased to announce to their audience that they will be airing their successful business program on Fox Business Network as sponsored content this Sunday, 2/2 at 5:30pm ET before The Big Game. This episode's exclusive interviews will spotlight key executives from EmCyte Corporation, TOURtech, Shimmer Research and Probi.
The four companies featured this weekend are leaders in their industries and demonstrate the unique branding opportunity Worldwide Business with kathy ireland® offers by bringing strategic messages to the business community.
Company Spotlight
EmCyte Corporation: Headquartered in Fort Myers, Florida, EmCyte is committed to the continual development and improvement of devices used for autologous regenerative biologics and to the promotion of autologous therapies used to enhance the quality of life.
CEO, Patrick Pennie says that EmCyte Corporation does more than simply support autologous regenerative treatments. He explains, "We're more than supporters of these treatments. We're innovators of treatments and protocols. With the good work of our chief scientific officer and key opinion leaders, we've been able to conduct a host of clinical trials and research projects. From these projects, we've been able to collect good evidence-based information that allows us to develop better treatment methodologies that are more clinically effective for patients."
TOURtech: Featuring an elite team of event production professionals and expert network engineers, TOURtech's experience in delivering reliable event Wi-Fi and technology solutions for music festivals, concert tours, corporate events and high-profile/confidential events is unparalleled. Services include event Wi-Fi, event surveillance and safety, mobile office solutions, equipment rentals, VoIP services, connectivity, and more.
Founder/CEO, Allen Cook states that TOURtech can help in various ways at a variety of live events. He explains, "It's important for live events to have Wi-Fi because everything that runs the event needs to connect to the Internet. From the access control bracelets to the POS terminals in the bars and merchandise stands, as well as the Wi-Fi in the sponsor activations, everything that does stuff does it on the Internet. That's where we come in."
Shimmer Research: As a pioneer in the industry and a leading provider of wearable wireless sensor products and solutions since its foundation in 2008, Shimmer Research is committed to pushing the boundaries and driving the future development of wearable wireless sensing. Headquartered in Dublin, Ireland, and with another location in Boston, Shimmer Research believes that wearable wireless sensing empowers people, and their mission is to provide new data, new solutions, new insight and new meaning.
President, Geoffrey Gill says that Shimmer Research's revolutionary wearable sensors can help streamline clinical trials in a big way. He explains, "With wearables, we're able to monitor people in the clinical trials and how they're feeling. Are they limping more or less? Are they more active? Are they sleeping better? We can do this twenty-four-seven throughout the whole period, so we get a much more accurate picture of how the patients are actually doing. That allows you to potentially reduce the number of people. Instead of three-thousand people, you might only need fifteen-hundred people. That cuts the cost of a trial in half. Plus, it makes it a lot faster because you don't have to recruit as many people. So it can really change clinical trials."
Probi: Holding more than four-hundred patents worldwide, Probi is a world leader within probiotics, supplying probiotic ingredients for the supplement, functional food and nutraceutical industries. Probi's vision is to deliver effective and well-documented probiotics with proven health benefits based on scientific research. The company offers probiotic expertise and partnership all the way from R&D to finished products. Their GMP-certified manufacturing facilities produce proven and effective probiotics in a variety of custom made formats with value-adding delivery technologies. Consumer products containing Probi's probiotics are available in more than forty markets around the world.
CEO, Tom Rönnlund says that there is a lot of work that goes into bringing a Probi product to life. He explains, "At Probi, we stay true to our heritage. As a researching company, we've been founded by scientists. That's something we've kept front and center throughout the development of our company. Therefore, the introduction and realization of new products in this field always starts with research and development for us. Through clinical trials, we're able to prove that our probiotics make a difference and deliver health benefits. After that, we take it to rigorous testing to ensure that it's possible to manufacture it, to grow the bacteria and also to deliver it into capsules, tablets or food applications that consumers can have further down the line."
For more information about the clients above, tune in to Fox Business Network as sponsored content on Sunday, February 2, 2020 at 5:30pm EST and internationally on Bloomberg Television on Saturday, February 8, 2020 at 7:00pm GMT and Sunday, February 9, 2020 at 10:00am D.F. and 2:30pm HKT.
About Worldwide Business with kathy ireland®
Worldwide Business with kathy ireland® is a weekly half-hour show featuring global executives sharing their business insights and framing the opportunities shaping their industries. Hosted by a business mogul, Kathy Ireland interviews some of the brightest minds in business today. The show broadcasts on Fox Business Network as part of their sponsored content line up and globally on Bloomberg Television. Worldwide Business with kathy ireland® extends beyond the weekly on-air program with digital content delivered on various video platforms and across social media.
Visit http://www.wwbki.com for detailed airing schedules or check local listings.