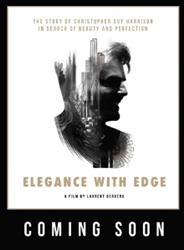 LOS ANGELES (PRWEB) December 18, 2020
Christopher Guy Productions and Kisa Harrison are honoured to announce the release of a 60-minute film, Elegance with Edge. A documentary, the film celebrates the incredible life of Christopher Guy Harrison, the visionary and creator of the luxury furnishings brand, Christopher Guy, and his constant search for beauty and perfection.
The worldwide online premiere will be screened on December 18, 2020 at 1pm (EST) / 6pm (GMT) on the Christopher Guy Official YouTube channel: https://youtu.be/3L7EjAUXifg
The documentary is directed by Laurent Bergers, who has worked closely with Christopher Guy over the past 12 years and has produced more than 100 breathtaking videos for the brand.
Exclusive press information about the film, as well as further details and images, can be obtained by contacting Birgit C. Müller at birgit@brandamb.com.
Media Notes:
About Christopher Guy Harrison (1960-2020)
The late Christopher Guy Harrison, an award-winning, internationally renowned designer, was the founder and CEO of luxury furnishings brand, Christopher Guy. Born in Britain, raised in Spain and France, and residing between Singapore and Los Angeles, Christopher's international background helped him view the world through a critically constructive eye that drew inspiration from everything he admired.
Christopher started his path in design with a clear objective – to make uniquely beautiful decorative furnishings to appeal to an international audience. Based on this design philosophy, Christopher Guy fuses timeless beauty with elegance evocative of a cosmopolitan lifestyle.
Christopher's first creations were brought to life in the mid-1990s, when he set out to create a unique mirror frame collection under the name of Harrison & Gil. To produce this repertoire of beautiful pieces, Christopher acquired a significant plot of land in Java, and began designing and building his extraordinary workshops, which opened in 1999.
Following the phenomenal success of the mirror frame business, the core philosophy of creating beautiful, original mirror designs was carried through to a growing range of luxury furnishings and decorative accessories. In 2007 the group, which comprised both the original mirror frame line and the new furnishings range, was rebranded as Christopher Guy, to offer a complete lifestyle and luxury furniture collection.
In August 2020, Christopher Guy Harrison passed away in Singapore, due to complications from lung cancer.
About Christopher Guy
Christopher Guy offers a fresh approach to design, transcending modern, traditional and cultural boundaries. Christopher Guy creations are selected by leading designers and retailers to grace the grandest hotels and most spectacular resorts, and the world's finest residences. With an uncompromising sense of style, along with an ongoing pursuit for elegance in every piece, the brand has continued to redefine the aesthetics of design. The result is a place at the forefront of the world's luxury furnishings market.
The Christopher Guy workshops in Central Java cover more than one million square feet, nestled harmoniously amid the lush Javanese landscape. Those who first set eyes on the site believe it to be a vast, centuries old, Moorish castle. In fact, this unique structure was designed by Christopher himself to reflect the sense of mystique and drama prevalent in his collections. More astonishingly, behind these weathered façades lies a state-of-the-art facility, the workplace to two thousand of the world's finest craftsmen.
Once beautifully crafted in these inspiring surroundings, with all aspects of the design and production expertly carried out in-house, the pieces are shipped globally to homes and hotels worldwide. Each and every Christopher Guy piece is designed to be part of 'The World's Most Fabulous Lifestyles'.
For more information, please contact:
Birgit C. Müller
Brand Ambassador for Christopher Guy
birgit@brandamb.com
+1 310 308 2847