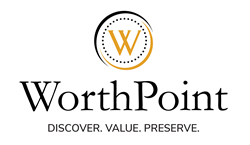 "Coins are an important category on WorthPoint.com and the results from MintProducts Auctions will be a valuable resource for our subscribers."
ATLANTA (PRWEB) March 17, 2021
WorthPoint Corporation has formed a partnership with MintProducts Auctions.
Based in Milford, N.H., MintProducts hosts online coin and currency auctions each month as well as live auctions twice per year. Since their debut bidding event in early 2015, the company has hosted more than 60 auctions.
MintProducts Auctions offers hundreds of unreserved lots in each sale, including rare coins, bullion, type coins, world coins, paper money, silver dollars, modern issues, tokens and medals, proof and mint sets, gold and silver coins, attractively toned coins, and more. More than 18,200 sales results from MintProducts Auctions are now available for search on WorthPoint.com.
"When it comes to numismatics and exonumia, MintProducts consistently offers a variety of items for all collecting levels," said WorthPoint Founder and CEO Will Seippel. "Jeff and his team were among the first to offer an online coin store, and through their auctions, they've built an amazing database of sales results. This is an important category on WorthPoint.com, and we're pleased to share their resources with our subscribers."
MintProducts Auctions CEO Jeff Kierstead – with more than 35 years of experience and over $100 million in coin sales to his credit – and his team use WorthPoint for research with almost every item they list.
"All the items we sell at MintProducts Auctions have a pre-sale estimate range, and as such, we need to research pricing," said Kierstead. "I found WorthPoint while searching for information on a rare piece of currency. It is an invaluable tool for anyone dealing in or collecting any type of coin or collectible."
MintProducts Auctions is preparing for upcoming sales, with details available via their online calendar. For more information, visit MintProductsAuctions.com.
WorthPoint partners with a diverse group of traditional auction houses and online marketplaces to provide archived sales data for art, antiques, luxury, vintage, and collectible items. For more information on WorthPoint data partnerships, click here.
About WorthPoint Corporation: WorthPoint manages the largest online resource for researching, valuing, and preserving antiques, art, and collectibles. The company's suite of offerings on WorthPoint.com includes a Price Guide, a resource gallery for identifying maker's marks, autographs, patterns, and symbols (M.A.P.S.), and a digital Library with over 1,300 books on collectible topics. Through data aggregated from online marketplaces, including eBay and leading auction houses, WorthPoint empowers the antiques and collectibles industry by providing a steady stream of new data each month, building on more than 540 million archived prices and nearly 1.3 billion images to improve pricing transparency for sellers and buyers. Based in Atlanta, WorthPoint has subscribers on six continents.