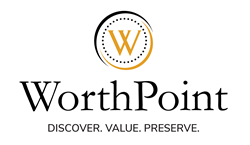 We grew by almost 60 percent year over year. We are well-positioned moving into 2021 with plans for numerous new products and data partnerships. - Will Seippel, WorthPoint Founder and CEO
ATLANTA (PRWEB) January 21, 2021
WorthPoint Corporation, the largest online resource for researching, valuing, and preserving antiques, art, and collectibles, today announced business results for the three and twelve month periods ending Dec. 31, 2020:

WorthPoint's fourth-quarter revenue grew by 10% from Q3, up almost 60% year over year.
Subscribers increased, up 6% from Q3 with a 40% increase from the same period in 2019.
Site traffic for WorthPoint.com was up 6% from Q3 and up 67% from Q4 2019.
WorthPoint ranked 599 in the U.S. for web traffic as of Dec. 31, down slightly from an October 2020 Alexa ranking of 564.
The amount of content in WorthPoint's Worthopedia™ database, which already surpasses all competitive websites, continues to grow: WorthPoint added 16.9 million items from 37 different sources to its Price Guide in Q4. The M.A.P.S gallery of marks, autographs, patterns, and symbols grew by 4,960 items, while the number of Dictionary pages expanded by 624, bringing the total to just over 3,050 entries. During Q4, an additional 1,500 items have been cleared for the Library, bringing the total number to over 3,000. Once added to the database, these items will quadruple the amount of information available to our subscribers in the Library.
WorthPoint made a significant executive hire in Q4, adding the company's first vice president of marketing, Scott A. Thomas. With more than 20 years of marketing and technology experience on a global scale, Thomas will be responsible for growing business partnerships and launching new products that expand WorthPoint's reach in the multibillion-dollar global arts, antiques, and collectibles industry.
"Like all of 2020, the last quarter of the year was a strong growth period for our company, despite a dip starting in early November that ran through the end of the year," said Will Seippel, WorthPoint Founder and CEO. "We grew by almost 60 percent year over year - without a formal marketing program and despite global economic and political uncertainty. While we are closely watching economic activity, we are well-positioned moving into 2021 with plans for numerous new products and data partners."
WorthPoint remained focused on the user experience in Q4 with improvements made to search, the launch of mobile registrations and payment options, and the beta release of an app for its M.A.P.S. database. The company also secured data-sharing partnerships with 13 new auction houses.
Looking ahead to 2021, WorthPoint is on track to launch an industry-leading image recognition technology mid-year, as well as a new Vault product geared toward homeowners. The company will also be rolling out the most comprehensive database of Japanese marks early this quarter.
About WorthPoint:
WorthPoint Corporation manages the largest online resource for researching, valuing, and preserving antiques, art, and collectibles. The company's suite of offerings on WorthPoint.com includes a Price Guide, a resource gallery for identifying maker's marks, autographs, patterns, and symbols (M.A.P.S.), and a digital Library with over 1,100 books on collectible topics. Through data aggregated from online marketplaces, including eBay and leading auction houses, WorthPoint empowers the antiques and collectibles industry by providing a steady stream of new data each month, building on more than 560 million archived prices and nearly 1.3 billion images to improve pricing transparency for sellers and buyers. Based in Atlanta, WorthPoint has subscribers on six continents.