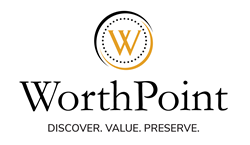 This database will feature images and articles that offer descriptions, translations, dates, and other details related to Japanese ceramics and various collecting categories.
ATLANTA (PRWEB) January 15, 2021
WorthPoint Corporation is on track to launch the most comprehensive database of Japanese marks in the antiques and collectibles industry in first quarter 2021. The company is expanding its current archive of Japanese content with the help of Dave Pike, an internationally recognized Japanese ceramics artist and master teacher.
Based in Nara, Japan, since 1994, Pike is a master instructor of Kintsugi and a sought-after lecturer on the topic in Japan and abroad. He first started working with WorthPoint as a writer in 2010. Since 2019 he has been focused on organizing WorthPoint's Japanese-related content and is currently building the site's taxonomy for Japanese marks related to ceramics, swords, scrolls and other collectibles.
"When it comes to calligraphy, marks, and other symbols used in Japanese antiques, no two guidebooks are the same in their presentation of this complex material," said Pike. "WorthPoint's mission is to untie the knots and make research of these topics easier and fun."
The company is categorizing thousands of new Japanese identifiers for its M.A.P.S. (Marks, Autographs, Patterns, and Symbols) database while developing specialized content for WorthPoint's growing Dictionary pages. Pike is also helping to clarify the differences in prices realized for Japanese collectibles in the U.S. versus European-based sales.
There are more than 150,000 marks currently featured on WorthPoint.com. In recent weeks WorthPoint has added 4,100 maker's marks related to Japanese ceramics, including over 200 Kyushu region marks and more than 1,600 marks related to Kutani ware. Modern and contemporary marks such as Hizen ceramics are also included. WorthPoint also added 3,500 marks related to Japanese tea bowls and swords, available in the Ceramics and Militaria & Weapons categories of WorthPoint.com. The company has an estimated 3,000 marks for Japanese scrolls and swords in the queue for Q1 2021.
WorthPoint started growing its team of Japanese art experts earlier this year with the hiring of recent Georgia Tech graduate Rebecca Seippel, who majored in intercultural studies with a concentration in Japanese. Seippel has studied the Japanese language for 10 years and has researched Japanese art for three. The additional expertise and data are helping WorthPoint build what will be the industry's most comprehensive repository of Japanese ceramics data and identification tools. When all planned additions are complete, WorthPoint.com will feature images and articles that offer descriptions, translations, dates, names, and other details related to Japanese ceramics and various Japanese collecting categories.
About WorthPoint
WorthPoint Corporation manages the largest online resource for researching, valuing, and preserving antiques, art, and collectibles. The company's suite of offerings on WorthPoint.com includes a price guide, a resource gallery for identifying more than 150,000 maker's marks, autographs, patterns, and symbols (M.A.P.S.), and a digital library with over 1,000 books on collectible topics. Through data aggregated from online marketplaces including eBay and leading auction houses, WorthPoint empowers the antiques and collectibles industry by providing a steady stream of new data each month, building on more than 560 million archived prices and nearly 1.3 billion images to improve pricing transparency for sellers and buyers. Based in Atlanta, WorthPoint has subscribers on six continents.