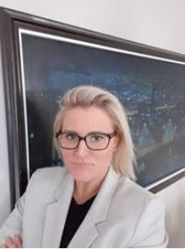 Corey brings to our team a special blend of expertise with appraisals, large auction houses, and domain knowledge.
ATLANTA (PRWEB) October 15, 2020
WorthPoint Corporation, the largest online resource for researching and valuing antiques, art, and collectibles, has hired Corey Cripe Kuchel as director of partnerships.
WorthPoint partners with a wide range of top-tier auction houses to provide archived sales data for collectors worldwide. In this newly created position, Cripe Kuchel will oversee these relationships while leading WorthPoint's growing partnership team. The company is focused on forging connections with more of the world's leading auction houses and major dealers in art, antiques, and collectibles.
Corey Cripe Kuchel is the founder of e-ValueIt, a boutique online appraisal service specializing in quick, quality appraisals provided by expert appraisers handpicked from her auction and museum network.
Prior to founding e-ValueIt, Cripe Kuchel worked for auction houses in Scotland and the USA as a decorative arts specialist and intrapreneur. She earned a master's degree in art history from American University and a bachelor's degree in political science and government from the University of Texas at Austin.
"WorthPoint is in the middle of a significant growth period and we are fortunate to have Corey leading our data partnership program," said Will Seippel, founder and CEO of WorthPoint. "She brings to our team a special blend of expertise with appraisals, large auction houses, and domain knowledge. That combination gives her an innate understanding of the value of WorthPoint. We are excited to have Corey join our team."
WorthPoint has recently been recognized for sustained growth and outstanding performance: The company was named to the 2020 Inc. 5000 list of Fastest Growing Private Companies in the United States; WorthPoint also won the Atlanta Business Chronicle's "50 on Fire" competition which recognizes emerging tech companies in the southeast region.
About WorthPoint:
WorthPoint Corporation manages the largest online resource for researching, valuing, and preserving antiques, art, and collectibles. The company's suite of offerings on WorthPoint.com includes a price guide, a resource gallery for identifying over 150,000 maker's marks, autographs, patterns, and symbols (M.A.P.S.), and a digital library with over 1,000 books on collectible topics. Through data aggregated from online marketplaces and leading auction houses, WorthPoint empowers the antiques and collectibles industry by providing a steady stream of new data each month, building on 540 million archived prices and more than 2.4 billion images to improve pricing transparency for sellers and buyers. Based in Atlanta, WorthPoint has subscribers on six continents.