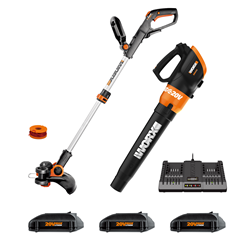 CHARLOTTE, N.C. (PRWEB) December 18, 2018
There may be snow on the ground with temperatures below freezing, but the new WORX® 20V GT 3.0 Trimmer/Edger and 20V TURBINE Blower combo may warm up gardeners this holiday season. This 20V duo makes quick work of yard cleanup from trimming and edging to blowing grass clipping, leaves and other yard debris.
The trimmer/edger/blower combo includes three, 20V 2.0 Ah batteries and a dual-port 2 hour charger. Press the keypad on the battery to see its charge level. The batteries are compatible with other WORX 20V lawn and garden and DIY tools and are part of the WORX 20V Power Share program.
The GT 3.0 features Command Feed™. WORX developed Command Feed to advance trimmer line instantly. No more bump-feed or waiting for line to advance. With Command Feed, the user electronically controls when to feed more line by pressing, then releasing, a pushbutton activator above the trigger.
WORX employs a shaft on the GT trimmer that ratchets from 0 to 90°. Unlike other fixed shafts trimmers, this feature allows users to trim in hard-to-reach areas such as beneath decks and picnic tables, between shrubs and other obstructed areas. The trimmer's shaft also is adjustable to match the user's height and posture.
This 2-in-1 trimmer/edger is a powerful grass trimmer and precision edger. Its twist-and-edge feature easily converts the trimmer into a wheeled, walk-behind edger, equipped with a set of wheels to drive a keen edge -along driveways, sidewalks, walkways and patios. The trimmer with battery weighs 5.3 lbs.
The WORX GT 3.0 has a 12 in. cutting swath and an adjustable metal spacer guard to help keep the trimmer's line from cutting into flower beds, tree trunks, lawn ornaments and other sensitive areas.
WORX incorporates a quick-change, snap-in spool system and includes one 10 ft. spool of .065 trimmer line. The company's Spools for Life program begins once the Worx GT trimmer is registered. The user receives free spools (six at a time) for the life of the tool, and only pays for postage.
When trimming and edging is completed, finish the job by using the powerful WORX 20V TURBINE Blower. The lightweight blower has an axial fan motor that pulls air directly into the fan and immediately forces it out through the large diameter blower tube. The tube contains a hyper-stream nozzle that concentrates and intensifies the air stream.
The blower's two-speed control provides air velocities ranging from 225 to 340 CFM. The lower speed is ideal for garage cleanup, clearing out screened porches and other enclosed areas, as well as mulched flower beds and vegetable gardens. Choose the high speed setting to blast leaves and debris out of the way or across the lawn in a hurry.
The WORX 20V GT 3.0 Trimmer/Edger and WORX 20V TURBINE Blower Combo (WG921.1, $179.99) includes three, 20V 2.0 Ah MAX Lithium batteries, 2-hour charger and one spool of 10 ft. line. The trimmer/blower combo is covered by the WORX three-year limited warranty. It's available at http://www.worx.com.
Reach out to WORX social media links like Facebook: https://www.facebook.com/worxus?ref=hl; Twitter: https://twitter.com/WORXTools; Pinterest: http://pinterest.com/worxtools and Instagram: @WORXTools