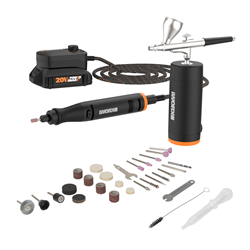 Because MAKERX tools, themselves, don't contain batteries, they're lighter weight, better balanced, leaner and more compact than other models. However, the portable power hub eliminates the need to be connected to an electrical outlet.
CHARLOTTE, N.C. (PRWEB) January 25, 2023
Although Valentine's Day celebrations soon will be replete with bling, bonbons and bouquets, there are many hobbyists and handypersons who actually would prefer to unwrap a versatile, portable and cordless WORX® tool innovation. Two examples are: The WORX 20V MAKERX™ Rotary Tool & Air Brush Combo Kit and WORX Nitro 20V Oscillating Tool.
The 20V MAKERX Rotary Tool and Airbrush Combo Kit includes a MAKERX Hub, 20V Power Share battery, 45 accessories with case, charger and storage bag. The kit is centered around the MAKERX Hub. Each compact tool in the system connects to the power hub via a 4-ft. cord. The hub is powered by a 20V, 1.5 Ah, Max Lithium, Power Share battery.
The tools, themselves, don't contain batteries. So they're lighter weight, better balanced, leaner and more compact than other models. Micro-ergonomic grips also make the tools easier and more comfortable to handle, especially over extended periods.
Better yet, the portable hub eliminates the need to be connected to an electrical outlet. Just pick up the kit and take it to the project location or work station. The hub has an on/off switch and a variable-speed dial, from 5,000 to 35,000 rpm, depending on the tool that's connected. The hub with a 20V, 1.5Ah battery weighs only 1.1 lbs.
The rotary's applications include projects that include cutting, drilling, detail sanding, polishing, engraving and etching. Examples include crafting, home improvement/repair, woodworking, home/holiday decor, sculpting, robotics, model-making, miniatures, dioramas, metalworking, jewelry making, and school/kids projects.
The rotary tool features a brushless motor for long life and smooth operation. Brushless motors run cooler and with less friction and vibration than conventional brushed motors. The versatile rotary tool weighs only 0.29 lbs. It also is 20 percent slimmer than competing models and has a narrow pencil-like grip for handling projects with precision and control. The rotary tool's included 1/8 in. collet accepts other major brand accessories with 1/8 in. shanks, which are widely available at hardware stores and home centers. Other collet sizes, including 3/32, 1/16 and 1/32, also fit the tool.
Also included in the kit is a 20V MAKERX Air Brush that weighs only 0.62 lbs. It features a dual-function trigger control that separates air flow and paint volume. This allows the user to go from a wide spray pattern to a fine line, or vice versa, in a single stroke. It also helps avoid initial splatter by introducing paint gradually.
Powered by the WORX 20V 1.5Ah MAX Lithium battery, the tool's diaphragm pump generates 14 to18 psi air pressure and has a run-time up to 3 hours. Its 0.04 mm nozzle provides a good balance between fine detail and ample width of coverage.
The airbrush accepts a variety of water-based and acrylic paints, which are readily available at art supply and arts-and-crafts stores. The MAKERX, 20V, MAX Lithium battery is compatible with more than 35 other WORX DIY and lawn and garden tools.
The WORX MAKERX Rotary Tool and Air Brush Combo Kit (WX992L, $169.99) is available at worx.com and Amazon. It is covered by the WORX three-year, limited warranty.
The WORX® Nitro 20V Power Share Oscillating Multi-Tool is engineered to outperform with the new WORX high performance brushless motor. The cordless go-anywhere oscillating tool is designed for do-it-yourselfers and pros, and is capable of tackling multiple projects and repairs in the home or at the worksite.
The 20V oscillating multi-tool is equipped with a Nitro brushless motor for enhanced output, performance and dependability. The maintenance-free, brushless motor runs cooler with less friction and heat buildup than conventional motors with brushes, resulting in smooth, reliable operation and extended tool life.
The WORX Nitro 20V Oscillating Multi-Tool features Universal Fit™, a true universal accessory system, which enables the multi-tool to accept other major brands' accessories including Starlock® without adapters. WORX universal accessories are manufactured to fit all other competitive oscillating tools, giving consumers the option of using WORX blades and accessories without sacrificing fit or performance.
The Nitro oscillating tool has a spring-loaded centering mount that positively engages accessories with the help of Hyperlock™ a tool-less blade change system. Blade slippage and halted cuts can be an issue, so Hyperlock helps prevent these occurrences by exerting one ton of clamping force to prevent accessory slippage or blade stalls.
Choosing the right accessory enables the cordless tool to cut, sand, grind, polish and rasp wherever the job leads. The compact, ergonomic multi-tool has a lean tapered body with an overmold comfort grip handle.
Attach an end-cut blade, and the empowering tool quickly has the ability to trim doorjambs or cut PVC and copper pipe to length. Switch to a carbide grit semi-circular blade to grind grout from between floor or wall tiles. Use the triangular sanding attachment for fine finishing projects, especially in hard to reach areas, such as corners.
A rigid scraper blade helps remove blistered paint indoors or out; or takes rust to bare metal using a rasp attachment before priming and repainting. A scraper blade also helps remove hardened caulk around bathtubs and sinks without scratching the surface.
The WORX Nitro oscillating tool has a variable-speed dial of 8,000 to 18,000 oscillations per minute (opm). Higher speeds are best for cutting, sawing, sanding, rasping and polishing metal and stone. Lower speeds are recommended for scraping old paint, hardened adhesives and caulk. The multi-tool also features an LED light to help illuminate the work area once the trigger is pressed. The free-standing tool stands upright after use for easy retrieval.
The 20V oscillating tool weighs 3.1 lbs. with battery. It has an oscillating angle of 4º. Included in the multi-tool kit are two 1-3/8 in. bi-metal end-cut blades and two 1-3/8 in. precision wood end-cut blades.
The WORX 20V Power Share 2.0Ah battery is compatible with up to 100 other WORX 20V, 40V and 80V DIY, lawn and garden tools and lifestyle products for cost savings and convenience.
The WORX Nitro 20V Power Share Oscillating Multi-Tool (WX697L, $159.99) is available at worx.com and Home Depot) A bare tool version of the tool (WX697L.9, $129.99) minus the battery and charger also is available at worx.com. The oscillating tool is covered by the WORX three-year limited warranty.
Reach out to WORX social media links by visiting: Facebook: https://www.facebook.com/worxus?ref=hl; Twitter: https://twitter.com/WORXTools; Pinterest: http://pinterest.com/worxtools and Instagram: @WORXTools