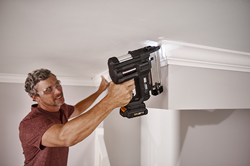 CHARLOTTE, N.C. (PRWEB) November 17, 2020
The new WORX® 20V Power Share 18 Gauge Brad Nailer and Crown Stapler eliminates the need for an air compressor, air hose as well as a hammer and nail. Nails and staples are driven by tool's sealed compressed air cylinder making it an asset to do-it-yourselfers for assembly and installation projects throughout the house.
It represents the first nail gun WORX has ever offered. The combination tool drives 18-gauge, brad nails from 3/4 in. to 2 in. in length. The nail gun fires 80 nails-per-minute and up to 500 nails on a single charge. Its side-loading magazine is easy to release and reload. The nailer/stapler is powered by a WORX 20V 2.0 Ah Max Lithium battery.
The portable cordless nailer goes where the job is needed. Balanced and easy to control, the 6.7 lb. nailer (with battery) can even tackle jobs overhead. When not in use, it stands on its own. Brad nailers are ideal for fastening two pieces of wood together. This includes baseboard, veneers, window trim, crown molding, wood strips to furniture, building or repairing cabinets and drawers, among other applications. As a crown stapler, it uses narrow crown staples from ¾ in. to 1-1/2 in. Ideal for adhering fabric to wood, as in upholstery work for chairs and benches. The stapler also is handy for craft projects, laying carpeting or runners on steps, chicken wire, screen, stapling insulation and other applications.
A mode selector switch on the rear of the tool enables single fire nail placement or rapid fire (sequential) firing. A depth adjustment knurl on the front of the tool allows the user to sink nails below the surface or flush with it. Use a piece of scrap wood to adjust nail depth. The tip of the nailer is non-marring and safe to use on a variety of wood species.
Built-in dual LED lights illuminate the work area. A red flashing light indicates a jam. A solid red light signals low battery. When the green light flashes, the tool is being used overhead. A solid green light signals no nails and time to reload. A viewing window provides a quick read on how many nails/staples are left in the magazine before it's time to reload.
The brad nailer/stapler is powered by a 20V, 2.0 Ah Max Lithium battery that's compatible with more than 35 other WORX DIY and lawn and garden tools through the company's Power Share platform.
The WORX 20V Brad Nailer does not use proprietary brad nails or staples. Standard, 18-gauge brad nails and narrow crown staples are widely available at hardware stores and home centers.
The time-saving tool is constructed of nylon composite with an overmold on the handle for a comfortable sure-fire grip, which helps eliminate fatigue especially over extended use periods.
The combination nailer includes one 20V, 2.0 Ah Max Lithium battery, 1-hour charger, 200, 1-1/2 in. 18-gauge brad nails and 200, 1-1/4 in. narrow crown staples, belt clasp, Allen wrench, backup non-marring pad and a carrying bag. The tool is covered by the WORX three-year limited warranty.
The WORX 20V Power Share 18 Gauge Brad Nailer and Crown Stapler (WX840L, $179.99) is available at worx.com and Amazon. A bare tool, minus the battery and charger (WX840L.9, $139.99) also is available at Amazon.
To see the tool in action visit: https://www.youtube.com/watch?v=r23gAa8mXrM
Reach out to WORX social media links visit: Facebook: https://www.facebook.com/worxus?ref=hl; Twitter: https://twitter.com/WORXTools; Pinterest: http://pinterest.com/worxtools and Instagram: @WORXTools