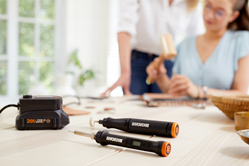 MakerX elevates the overall design, precision handling and portability of crafting tools to new levels.
CHARLOTTE, N.C. (PRWEB) November 23, 2020
This holiday season, instead of giving your favorite handyperson another ordinary toolbox addition, wow him or her with the new WORX® MakerX™ Rotary Tool and Wood/Metal Crafter Combo Kit. Besides the rotary tool and wood/metal crafter, the kit includes a MakerX Hub, 20V Power Share battery, 54 accessories with case, charger and storage bag.
The rotary tool and wood/metal crafter kit is part of the WORX MakerX system, which is a new, innovative approach to creative crafting tool design. Each compact tool in the system connects to a lightweight, go-anywhere MakerX Hub, powered by a WORX 20V, 1.5 Ah, Max Lithium, Power Share battery.
MakerX elevates the overall design, precision handling and portability of crafting tools to new levels. The tools, themselves, don't include batteries. Instead, each connects to the hub through a 4 ft., flexible, power cord. This enables the tools to be better balanced, leaner, more compact, and lighter weight than competing models. Micro-ergonomic grips make the tools easier to maneuver and more comfortable, especially during extended use periods.
The portable hub eliminates the need to be near an electrical outlet. Just pick the kit up and carry it along to any desired work station or project location, indoors or out. The hub has an on/off switch and a variable-speed dial, from 5,000 to 35,000 rpm, depending on the tool connected. The hub with a 20V, 1.5 Ah battery weighs 1.1 lbs.
The MakerX Rotary Tool's applications run the gamut of projects that require cutting, drilling, detail sanding, polishing, engraving, etching and more. Examples include crafting, home improvement/repair, woodworking, home/holiday decor, sculpting, robotics, model-making, miniatures, dioramas, metalworking, jewelry making, and school/kids projects.
The versatile MakerX Rotary Tool weighs only .29 lb. tool and has a narrow pencil-like grip for handling projects with precision and control. It features a brushless motor for long life and smooth operation. Brushless motors run cooler and with less friction and vibration than conventional brushed motors.
The MakerX Rotary Tool is 20 percent slimmer and 15 percent lighter than other leading brand rotary tools. Also, MakerX Rotary Tool accessories are not proprietary. The tool's included 1/8 in. collet accepts other major brand accessories with 1/8 in. shanks, which are widely available at hardware stores and home centers. Other collet sizes, including 3/32, 1/16 and 1/32, also fit the tool.
The MakerX Wood and Metal Crafter features dual temperature sensors that enable it to reach the selected temperature in seconds. A built-in, digital readout assures that the tip's temperature is set for optimal results, regardless of material or application. Its slim body design provides the ultimate grip for control of the .12 lb. tool.
Typical applications include electronic DIY projects and hobbies, as well as arts and crafts, such as creating wooden signs and embellishing leather goods, as well as jewelry-making and metal-crafting. The kit includes four assorted tips for soldering operations, and six tips designed for burning wood.
There are three pushbuttons on the tool to raise and lower temperature and on/off. Using the WORX 20V Max Lithium battery as its power source, the Wood and Metal Crafter has a 40W output with a temperature range of 400º to 900º F, with a startup rate of 30 seconds. The tool has an average continuous run time of 45 minutes using a WORX 20V 1.5 Ah Max Lithium battery.
The MakerX 20VMax Lithium battery is compatible with more than 35 other WORX DIY and lawn and garden tools through the company's Power Share platform.
The WORX MakerX Rotary Tool and Wood/Metal Crafter Combo Kit (WX988L, $99.00) is available at Lowe's and worx.com. It is covered by the WORX three-year, limited warranty.
Reach out to WORX social media links by visiting: Facebook: https://www.facebook.com/worxus?ref=hl; Twitter: https://twitter.com/WORXTools; Pinterest: http://pinterest.com/worxtools and Instagram: @WORXTools