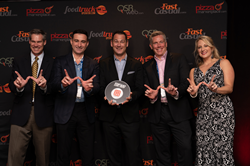 All types of consumers — not just vegetarians and vegans — are choosing more plant-based and healthier options, and these types of concepts are often known for being innovative when it comes to menu offerings and customer service.
LOUISVILLE, Ky. (PRWEB) May 20, 2019
Wow Bao is this year's Fast Casual Top 100 Mover & Shakers, and the fact that a healthy concept topped the list is proof that customers are embracing more nutritious food options. In fact, 17 of the Top 25 brands on this year's list fall into the healthful category, which often includes Asian and Mediterranean concepts, Cherryh Cansler, VP of Editorial of Networld Media Group, parent company of FastCasual, said in a company press release.
"All types of consumers — not just vegetarians and vegans — are choosing more plant-based and healthier options, and these types of concepts are often known for being innovative when it comes to menu offerings and customer service. But don't worry; burgers and pizza aren't going anywhere," she said.
Although Wow Bao exists via company-owned stores, airport locations, sports stadiums outlets, college campus units and a frozen retail grocery line, the 11-unit Chicago-based chain is
probably best known as an innovator in technology. Its newest locations, for example, feature a fully automated front-of-house customer experience that merges speed, order accuracy and hospitality.
It doubled its size in 2018, and will do the same this year thanks to the private equity funding it recently acquired, Cansler said.
Those named to the Top 100 list, which consists of 75 brands and 25 people, received their awards during a gala Sunday night at the Sofitel hotel in Chicago. Executives from nearly all brands were on hand to accept their awards.
"It's my favorite night of the year — all of these amazing people coming together to celebrate one another's accomplishments," Cansler said. "Having so many leaders in one room is an honor."
1. Wow Bao
2. Pokeworks
3. The Halal Guys
4. Garbanzo
5. Nekter Juice
To see the entire list, click here to download the Fast Castual Top 100 report, sponsored by Oracle.
Choosing the Top 100
Although nearly half the brands on this year's list fell into the healthy category, a variety of cuisine types, including pizza, burgers, barbecue and Mexican cuisine, still found a place. It wasn't an easy list to compile, however, as hundreds of brands nominated themselves by taking part in a survey about their business practices and also nominated executives whom they believed best represented the industry, Cansler said.
A panel of judges weighed each nomination carefully before deciding on the final 100, composed of 75 brands and 25 executives.
While each winner offered customers a little something extra to differentiate it from its competitors, the top performers also shared important similarities — a heavy emphasis on employee training, high-quality ingredients, technology upgrades, brand culture and a passion for giving back to their communities, Cansler said.
The list also recognizes brands and leaders for their contributions to the growth of the fast casual segment. When it comes to creativity, progressiveness and hard work, these 100 brands and executives are leading the restaurant industry as a whole.
Five Guys honored with Fast Casual Excellence in Food Safety Award
Brands taking an exceptional approach to food safety are reaping benefits beyond customer safety and risk mitigation. Increased same-store sales, employee retention and overall customer experience are all closely intertwined with food safety — meaning a strong food safety culture that goes beyond expectations is truly something to be celebrated.
To recognize those efforts, FastCasual partnered with Steritech, a provider in third-party food safety assessments for the restaurant industry, to create the Excellence in Food Safety Awards. Doug Sutton, president of Steritech, honored Five Guys as the top winner during the gala and gave Honorable Mentions to Vitality Bowls, founded in 2011, in San Ramon, California, and Chicken Salad Chick, based in Auburn, Alabama.
Choosing the Excellence in Food Safety Award
Much like the Fast Casual Top 100 process, brands were asked to submit nominations about their efforts in food safety. FastCasual and Steritech then engaged a marketing consultancy and research firm to conduct an independent assessment of the nominations and determine a select group of semi-finalists based on these food safety criteria:
1. Leadership commitment.
2. Training.
3. Communications.
4. Program oversight.
5. Defined KPIs.
6. Positive recognition.
7. Results.
8. Innovation
The winner was determined after interviewing each semi-finalist, Sutton said.
No.1: Five Guys
Five Guys' food safety culture starts right at the top with owner Jerry Murrell and permeates all aspects of its operations at over 1,600 locations worldwide. Food safety awareness is incentivized at the store level through strong monetary rewards programs for high performance on third-party food safety assessments. Employing technology in its stores to streamline best practices and working with suppliers to beta test safety proficiency makes Five Guys an innovator in the food safety space.
Honorable Mention: Vitality Bowls
Vitality Bowls has developed its entire brand concept around allergen safety, an oft-overlooked element of food safety programs. Tara Gilad, founder and COO, started Vitality Bowls with a desire to provide safe and healthy food options to all customers as a response to discovering her daughter's severe food allergies.
"Our culture is one of safety, and that's really something we promote," said Gilad, who has spearheaded efforts to promote food allergy awareness through the Vitality Bowls brand. Vitality Bowls puts its food safety mission into action through ongoing training at both the corporate and franchisee level, along with simplified operations that include color-coded job aids to make complicated cross contact processes easy to learn and implement.
Honorable Mention: Chicken Salad Chick
Chicken Salad Chick makes food safety integral to all operations and communications. Food safety is written into its training procedures as part of the way it prepares products, making it "part of how we do what we do," as Director of Training and Operations Patti Evanovsky puts it. To further eliminate risks in dealing with raw chicken, the brand has developed its own technology to ensure safe cooling of its base ingredient, the Classic Carol. In addition to food safety operations, Chicken Salad Chick motivates employees to focus on food safety through a reward-based incentive system and recognition of top performers in food safety at its annual banquet.
About Networld Media Group
Founded in 2000, Networld Media Group is a leading business-to-business (B2B) global media communications company specializing in digital media, associations and events in the mobile, self-service, digital signage, retail, food service and financial services industries. Online properties include ATMmarketplace.com, BlockchainTechNews.com, DigitalSignageToday.com, FastCasual.com, FoodTruckOperator.com, KioskMarketplace.com, MobilePaymentsToday.com, PizzaMarketplace.com, QSRweb.com, RetailCustomerExperience.com and BiblicalLeadership.com. Networld event properties include the Fast Casual Executive Summit, CONNECT: The Mobile CX Summit, Interactive Customer Experience Summit, Bank Customer Experience Summit and the Restaurant Franchising & Innovation Summit. Networld also operates the ICX Association. BOOM! Creative, provides clients with digital creative, custom media and brand collateral. Its newest offering, World of Money, is a daily e-newsletter that provides a fun and informative look at the trends, technologies, and ideas shaping the future of money and payments.
###