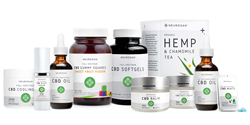 "We are confident this partnership will properly position WR Group for the fast-growing, complex hemp CBD market and help us to achieve our vision of building lifetime loyalty with our customers."
SCOTTSDALE, Ariz. (PRWEB) June 12, 2020
WR Group, one of the country's leading global wellness companies, is pleased to announce their investment in Neurogan, a California-based CBD & Superfood corporation established in 2016. Neurogan is a rapidly growing manufacturer of legal, hemp derived, CBD consumer products in both the branded and custom development/private label space.
"We are excited by the addition of Neurogan to our rich portfolio of health & wellness products at WR Group," stated Renee Barch-Niles, EVP of Retail at WR Group. "We recognize the value of investing in an organization that already has a fully vertically integrated supply chain. Neurogan's capabilities include complete cGMP manufacturing with track and tracing transparency, stringent quality control, investment into critical third party testing and thorough understanding of the hemp plant, from seed-to-shelf. We are confident this partnership will properly position WR Group for the fast-growing, complex hemp CBD market and help us to achieve our vision of building lifetime loyalty with our customers."
WR Group will be launching a line of retail ready, full and broad spectrum hemp CBD products both online internationally, as well as brick and mortar in North America. The categories under the retail brand and private label offerings include a full selection of CBD skin care, pet care, teas, tinctures, gummies, vegan capsules, and more.
"We select only the best, sun-grown hemp CBD from select farms in Scandinavia and the USA, and then send each batch through state-of-the-art CO2 extraction and a 3-step purification process at private laboratories," stated Jan Brandrup, CEO and Director of Quality at Neurogan. "Through full panel testing, we can verify that our hemp CBD is living up to the highest industry standards possible, free of trace heavy metals and pesticides. Our private cGMP certified manufacturing facility in San Diego gives us full control over our products and the ability to offer customers added perks, such as: QR tracking on each product, powerful full and broad spectrum extracts and the capability to handle over 100,000 orders of any kind per month."
"Partnering with WR Group will help us get our product into the hands of consumers around the globe, with their team's experience in consumer-packaged goods. This allows us to do what we do best: manufacturer innovative, high-quality, safe and effective hemp CBD products."
WR Group seeks to partner exclusively with businesses raising the standard of excellence in their field, a value which Neurogan exemplifies; Neurogan hemp is Organic, Non-GMO, Vegan, Kosher, Gluten Free, and free of fillers and additives. Neurogan offers a wide array of items to fit your unique needs, including a full line of vegan, human-grade CBD pet chews & oils for our four-legged friends' physical and mental well-being.
In the last year, WR Group has launched six healthy lifestyle brands in over 20,000 doors throughout the United States, increasing the company's market visibility and exposure to consumers. WR Group is dedicated to offering top quality products, winning client services and unique private label offerings through this expansion.
For more information about WR Group, please visit WRGroup.com.
About WR Group: WR Group is one of the world's fastest growing global manufacturers and distributors of high-end health and personal care products. Its extensive brand and custom manufacturing portfolio includes over 1,000 products, which are distributed to more than 60 countries worldwide. WR Group, based in Scottsdale, AZ., has an active consumer base of over 2 million customers that have grown to become loyal, repeat purchasers. Since 2001, WR Group has been a leader in the health and wellness industry. WR Group has designed 16 uniquely high-quality brands with a focus on delivering the cleanest, most effective products available for families including Probiogen™ Spore Probiotics, ORALGEN NuPearl® Teeth Whitening, BareOrganics™ Superfoods and more.
In partnering with Neurogan, WR group is proud to support a company that seeks to maintain complete transparency through every step of their supply chain. Neurogan's main source of hemp cultivation is their family-owned farm in Denmark. All Neurogan industrial hemp undergoes a 6-month slow growth cycle in the sun, wind and rain, with access to Denmark's fresh water supply and superior farming standards. From April to September, the family grows full-spectrum, high-quality hemp in soil that is free of heavy metals and harmful pesticides. Once the crops are in full bloom, they're picked and dried over a two-month period before the whole hemp plant is granulated into pellets and sent to the United States.
The manufacturing team receives the fresh grown hemp on-site in San Diego, CA and incorporates it into custom recipes using premium, clean CO2 extraction in a cGMP & Kosher certified facility. To date, Neurogan has spent over $300,000 on third-party testing alone. Each step in Neurogan's supply chain is integral to providing transparency and quality that customers can trust.
EDITOR'S NOTE: For more information about WR Group, Inc./Neurogan or to arrange to speak with a company spokesperson, please contact Kimberly Flores at (480) 505-4005 or kflores@wrgroup.com