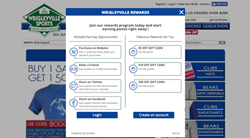 "Data helps us better understand the behavior of buyers. We can now predict future behaviors and as a result, drive greater loyalty."- Eric Castellucci, Marketing Director at Wrigleyville Sports.
SAN JOSE, Calif. (PRWEB) April 03, 2019
Wrigleyville Sports offers nearly every Chicago Cubs licensed item: from key chains to leather jackets, including authentic on-field jerseys, t-shirts, sweats, caps, teddy bears, bobble head dolls, posters, glassware, golf balls, photos, and much more! With the objective to improve customer retention, Wrigleyville Sports has implemented Zinrelo's modern-day loyalty rewards program.
Loyalty programs help boost customer retention and lifetime spend. They also contribute to the bottom line by connecting the dots of customer behavior. Customers also engage heavily with loyalty program emails. Wrigleyville Rewards Program emails sent via Zinrelo get an open rate of 75% and a click rate of 16%, compared to 10% open rate and 0.5% click rates for normal email campaigns.
Zinrelo's data team recently provided a thorough data analysis to Wrigleyville and offered recommendations to make customers happier and increase loyalty. For example, Zinrelo discovered that Wrigleyville customers spent 14% more on their second order compared to the first and 44% more on their third order compared to the first. The biggest drop off was seen after the first purchase. An important insight was that the third purchase was the inflexion point beyond which customers stay loyal to the Wrigleyville brand and are unlikely to switch to a competitor. Therefore, the Zinrelo data team recommended that Wrigleyville should offer customers a higher reward after the first purchase to encourage the second and third purchases.
With this new insight Wrigleyville Sports modified their loyalty rewards program so that many more of the purchasers would be eligible for a reward after their first purchase. Wrigleyville expects this new strategy to deliver a 5% increase in customer retention.
"A loyalty rewards program gives our customers increased incentive to come back for more. We now incentivize 35% more customers immediately after their first purchase to get them to their second and third purchase" commented Eric Castellucci, Marketing Director at Wrigleyville Sports. "We want our customers to get to three purchases so that they can become a long-term loyal customer."
"Zinrelo's loyalty rewards program is helping businesses to reach out and make deeper long-lasting connections with their customers. Loyalty ensures that customers do not go to competition, and this results in repeat business" stated Samir Palnitkar, VP of Customer Success at Zinrelo. "We are empowering businesses to create personalized loyalty rewards programs with ease."
About Wrigleyville Sports:
Wrigleyville Sports opened their first store at Chicago in 1990. Since then, they have enjoyed countless memorable moments- some with the thousands of baseball fans from around the world and many with die-hard Cub fans from the neighborhood who never miss a game. Just about anything you can think of is available with a Cubs logo, along with some items beyond imagination.
About Zinrelo:
Zinrelo is a modern-day, loyalty rewards program that maximizes repeat sales and per-customer revenue through 360-degree customer engagement. Zinrelo encourages multiple dimensions of loyalty including transactional, social, referral, engagement and behavioral loyalty. It supports omni-channel deployments that span across desktop, mobile as well as physical stores. Zinrelo's data driven approach is empowering brands to create powerful promotional strategies by fueling them with advanced data analytics.
To zing your loyalty and referral programs, contact Zinrelo at https://zinrelo.com/ or info(at)zinrelo(dot)com