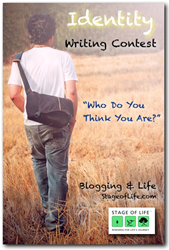 College applications ask students to write a personal statement about who they are...this topic will resonate with high school students getting ready for their next stage of life.
Chicago, IL (PRWEB) September 29, 2014
Online writing community, StageofLife.com, announced that essay submissions for its September 2014 writing contests will be closing at midnight PST on Sept. 30th.
This month's writing prompt deals with the topic of identity.
"Many college applications ask students to write a personal statement about who they are," stated Stage of Life's VP of Education, Rebecca Thiegs. "We thought this topic would especially resonate with high school students starting to think about college and their next stage of life."
Some of the sub-prompts tied into the online essay contest include questions such as asking people to think about how they formed their identity. What shaped it? Was there a person, place, or thing that helped formed the sense of self?
"As always, judging the submitted essays will be difficult," says Eric Thiegs, co-founder of the website. "Every story will be a personal narrative about the core of who are we as individuals. From an editorial team perspective, while we will pick a couple of stylistic winners, we will celebrate all of the stories that are submitted."
Alongside the September contest, Stage of Life is featuring inspirational videos, a Twitter Writing Contest component, and other information to help give additional resources addressing the topic of identity.
Essays shared for this month's story contest must be original, 500 words or less, and non-fiction. The deadline for submitting stories on this topic is midnight Sept. 30th, 2014 Pacific Time US. Finalists, runners up, and winners will be posted after October 22nd, 2014.
Two winning essay writers (one teen and one adult) will be selected from across all submitted stories and will receive a prize package from StageofLife.com including gift cards from its educational sponsors IHOP, Applebee's, Papa John's, etc.
# # #
StageofLife.com is a privately funded, startup company founded in 2009. The website's mission is to change the world, one story at a time. With over 20,000 stories shared from over 10,000 bloggers across the world, the site recently welcomed its 1,000,000th visitor and provides an international writing community for today's teen, Gen X, Gen Y, and Baby Boomer generations.