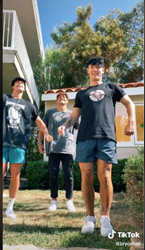 We understand the importance of leveraging social media to expose the world to unknown music and to give rising artists a platform for creative freedom and expression. We can't thank Bryce and his boys enough for choosing our song to amplify the Writrz Block. - James Floyd, CoFounder, Writrz Block
LOS ANGELES (PRWEB) June 24, 2020
"One More Night" featuring The Floyds and Al-Trina Renee skyrockets on social media via TikTok, the hottest video-sharing social networking platform.
TikTok superstar Bryce Hall, along with Blake Gray and Noah Beck, created a fun, light-hearted dance to "One More Night," which they dubbed the #OneNightChallenge. The TikTok video has amassed 2.5M views (at press time), and the numbers continue to climb.
"One More Night" was created and produced through Writrz Block, an app that challenges music artists of all genres to record a hit song in 3 hours or less, without experiencing writer's block. The premise is to offer guest artists a limited amount of time to produce a single while showing music lovers an insight into what it takes to make a good song.
Writrz Block Co-Founder James "Gotti" Floyd and J.B. Floyd, also known as The Floyds, along with Songstress Al-Trina Renee, were emailed a melodic, pop beat and challenged to record a hit song in 3 hours. Described as a 'club banger,' the artists aptly named it "One More Night."
The creative process, including artist interviews and behind-the-scenes footage, is captured for the Writrz Block show on YouTube. The song's official music video, featuring memojis, colorful graphics, and an animé vibe, has amassed 55K views (at press time), a record high for the show.
"We understand the importance of leveraging social media to expose the world to unknown music and to give rising artists a platform for creative freedom and expression. We can't thank Bryce and his boys enough for choosing our song to amplify the Writrz Block," said James.
To view the "One More Night" music video, click here: https://www.youtube.com/watch?v=FjDfOy53KQA
To view Hall's viral TikTok #OneMoreNightChallenge video, click here: https://www.tiktok.com/@brycehall/video/6841577599450320133?lang=en
ABOUT WRITRZ BLOCK
The Writrz Block is a music app that allows artists from all genres of music to challenge each other to a song duel. The objective of the challenge is to test an artist's capability to write and record a song from preselected tracks within 24 hours and upload it to the platform before the time expires. If the artist is unable to fulfill the requirements, they will have forfeited the challenge and will be marked as an artist who experienced "Writrz Block." If both artists' songs are successfully uploaded to the app within the allotted time period, the song will be available for purchase and the listener can vote on their favorite song. The production process is also captured on video and produced as a show on YouTube.