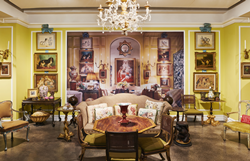 The preview was an "exhibition to remember" writes Architectural Digest, crediting Jenkins with "bringing the exhibition to life."
JACKSON HOLE, Wyo. (PRWEB) February 11, 2020
Rush Jenkins, CEO and creative director of Jackson, Wyoming-based WRJ Design, was lauded by Architectural Digest as "the maestro" behind the design and installation of the preview exhibit for one of the most anticipated auctions in decades. The Sotheby's New York auction "Mario Buatta: Prince of Interiors," featuring nearly 1,000 pieces from the extraordinary personal collection of the interior design legend, concluded January 24, 2020, shattering original estimates of $2.9 million by earning an astounding $7.6 million in sales. The preview was an "exhibition to remember" writes Architectural Digest, crediting Jenkins with "bringing the exhibition to life." House Beautiful agrees, calling the immersive display "as close as you can get to stepping into the late designer's private life—a dream experience for any design fan."
One of the biggest events of 2020 for the design community, the auction included 922 lots, carefully curated from Buatta's gargantuan personal collection of furnishings, fine art and decorative objects from his Upper East Side New York City apartment and historic Connecticut house by his friend, confidante and biographer Emily Evans Eerdmans.
As designed by Jenkins, "the Buatta exhibition drew celebrities, industry professionals, and long-time admirers of Buatta's lively spirit and passion for maximalist design," writes Luxe Interiors + Design, capturing Jenkins' correct prediction that final bidding would "far exceed" early estimates. Indeed, "almost all of the items in the auction exceeded their projected sales prices," writes Business of Home, also reporting that the Jenkins-designed presale exhibition "attracted over 4,000 visitors to Sotheby's galleries." The sale's top price was for a painting by Yuri Pavlovich Annenkov at $212,500. And Jenkins' personal favorite, a black-and-gold secretary, sold for $162,000, more than twice its original estimate.
"Mario was a true arbiter of taste," Jenkins tells Luxe. "He collected things from other luminaries, like John Fowler and Nancy Lancaster, so now those items have a second stamp of approval and the provenance is even more impressive. Mario also had a strong respect for fine craftsmanship and a deep understanding of history," he adds, "so this collection is a masterpiece of beautiful objects."
A former director of design for Sotheby's, Jenkins and his WRJ Design partner and COO Klaus Baer are no strangers to boldface names, having created more than 40 exhibitions for the auction house of legendary personal collections, including of Mrs. Paul Mellon, Laurance Rockefeller, Brooke Astor, Bill Blass, Mrs. Wrightsman and Lily Safra, as well as working with Mrs. Reagan to create "Nancy Reagan: A First Lady's Style" for the Reagan Presidential Library and designing an exhibit of the work of famed midcentury jewelry artist Jean Schlumberger for the Museum of Fine Arts, St. Petersburg.
"Our approach to exhibitions is always to artistically represent the spirit of the collector – who in Mario Buatta's case happens to be an iconic interior designer," says Jenkins. "Though his personal style is outwardly different from our own in many ways, his approach to collecting interesting and unique objects and working creatively with scale and composition, fundamentally resonates with WRJ's philosophy of design. It was an honor to delve into the life of Mario Buatta and create an exhibition that encapsulated his world."
About WRJ Design:
Headquartered in Jackson, Wyoming, WRJ Design imparts the special serenity of its local Teton landscape to interior designs in Jackson Hole and across the country. Begun out of a passion for great design by Rush Jenkins and Klaus Baer, WRJ creates experiences and environments through its designs that provide timeless reflections of homeowners and their collections, combining the work of regional artisans with finely crafted European furnishings and accessories, and historically rich one-of-a-kind pieces curated from around the world. For more information visit wrjdesign.com and follow WRJ Design on Instagram.