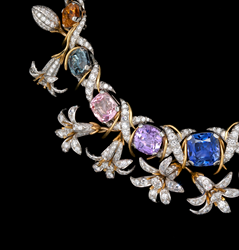 We're highlighting Mrs. Mellon's incredible Schlumberger jewelry collection within the context of her lifelong passion for gardens and horticulture.
JACKSON HOLE, Wyo. (PRWEB) October 22, 2018
The Museum of Fine Arts in St. Petersburg, Florida, has selected Rush Jenkins, CEO of WRJ Design in Jackson Hole, Wyoming, to create its upcoming exhibition "Jewels of the Imagination," featuring more than 135 pieces from Rachel Lambert "Bunny" Mellon's incredible collection of jewelry and objects by famed midcentury jewelry artist Jean Schlumberger. Jeweler to such paragons of style as Audrey Hepburn and Jacqueline Kennedy – and with his own design studio in Tiffany & Co. New York – Schlumberger drew inspiration from nature for his witty yet iconic designs. He found a patron and friend in Bunny Mellon, an accomplished horticulturalist who collaborated with him in recreating favorite botanicals in jeweled form and amassed the world's largest collection of his work.
Rush Jenkins, with partner Klaus Baer, leads award-winning interior design firm WRJ Design, creating artful, bespoke spaces for clients in the Rocky Mountain West and beyond. WRJ also is known for creating more than 40 exhibitions for Sotheby's New York, featuring collections from such recognizable names as Laurance Rockefeller, Katharine Hepburn and Bill Blass – as well as an auction preview exhibition of Old Masters from the Weldon Collection that a Wall Street Journal article likened to a "Metropolitan Museum of Art blockbuster."
Notably, Jenkins – who, before founding WRJ with Baer, was Director of Design for Sotheby's New York – also designed the 2014 exhibition "Property from the Collection of Mrs. Paul Mellon" for Sotheby's and will draw on that knowledge in crafting the new museum show. "Designing this collection is about blending history and beauty with art and elegance, and at its heart is the storytelling," he explains. "We're highlighting the exhibit's story, which is Mrs. Mellon's incredible Schlumberger jewelry collection, within the context of her lifelong passion for gardens and horticulture."
The first exhibition of Bunny Mellon's Schlumberger collection premiered at the Virginia Museum of Fine Art last year. Now the prized pieces, vibrantly colored and studded with precious gems, will debut at the Museum of Fine Arts, St. Petersburg, Florida, in "Jewels of the Imagination: Radiant Masterworks by Jean Schlumberger from the Mellon Collection," on display Dec. 15, 2018, through March 31, 2019. As designed by WRJ's Jenkins, the MFA exhibition provides a rare opportunity to see Schlumberger's avant-garde jewelry that caused a game-changing sensation in post-war American fashion.
Rush Jenkins' unerring eye, his special knowledge of Mrs. Mellon and his years of expertise gained through the creation of exhibitions of the collections of numerous luminaries will inform his presentation of Schlumberger's work for the museum. As with WRJ's ultra-chic yet accessible interior designs for clients, Jenkins believes that exhibitions should "unfold, like a novel," revealing unexpected delights around every corner.
About WRJ Design:
Headquartered in Jackson, Wyoming, WRJ Design imparts the special serenity of its local Teton landscape to interior designs in Jackson Hole and across the country. Begun out of a passion for great design by Rush Jenkins and Klaus Baer, WRJ creates experiences and environments through its designs that provide timeless reflections of homeowners and their collections, combining the work of regional artisans with finely crafted European furnishings and accessories, and historically rich one-of-a-kind pieces curated from around the world. WRJ Design has been honored as top U.S. mountain designer by Rhapsody magazine and awarded the 2016 Home of the Year by Mountain Living. Two WRJ projects are featured in the recent book Rustic Modern. For more information visit wrjdesign.com.