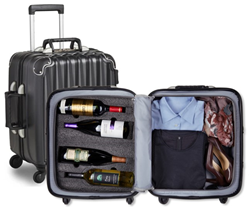 PENNSAUKEN, N.J. (PRWEB) November 19, 2020
Since this holiday season likely looks different than years prior, WTSO, the wine delivery website, wanted to bring something special to their customers. These initiatives include easy gifting and sending options, virtual tastings, and exclusive sales with esteemed partners. These new options allow customers to send a variety of gifts to all the wine lovers on their shopping list without having to look far.
WTSO is proud to introduce its seasonal partners: VingardeValise, Coravin, RePour, and Brix Chocolate. All these brands have a connection to wine, making their holiday gifts the perfect pairing for a bottle of WTSO wine.
VingardeValise, a wine luggage brand, is offering one of their most popular products, the 12 Bottle Grande Wine Suitcase, on WTSO. The special flash sale is a Pre-Black Friday event, during the week of November 16 during a private members-only sale. The deal includes an unbelievable discount on the travel accessory, as well as even more bonus promotions added.
While WTSO has worked with Coravin before, this year's new flash sale event is one to note. On November 23 only, customers can buy the Limited Edition Model Six Mica for $199.95. Normally a $399.95 value, these wine preservation tools are available for 50% off one day only on the WTSO website. The value set includes the Limited Edition Mica system, (3) Coravin Pure™ Capsules, (2) Coravin Screw Caps, and a sleek carry case.
Another new partner, Repour, introduces a new way to save wine after the cork has been removed. Using the wonders of science, the easy-to-use Wine Savers absorb oxygen straight out of the bottle. These products are available as an add-on purchase, making them a great inclusion to gift purchases. Given the size and ease of use, the wine stoppers can even serve as the perfect stocking stuffer.
Last but not least, Brix Chocolate is unique in the fact that they blend their chocolate specifically to enhance the flavors in wine. As a wonderful add-on to WTSO's selection of holiday wines, these chocolates make a delicious holiday gift. The toppers can be conveniently placed around the neck of a wine bottle, making it a beautifully presented gift set.
In addition to their holiday partnerships, WTSO will also be hosting a variety of virtual sale events for customers until the end of 2020, including one of their famed Marathons. Customers can expect deals ranging from BOGO Weekly Tasting sets and 12-bottle wine cases to large-format bottles.
While keeping an eye out for these collaborative promotions with WTSO's new partners, shoppers are encouraged to view WTSO's holiday collection for wines that are ideal for hosting dinners and gifting.
To learn more about WTSO's partnerships and holiday initiatives, visit WTSO.com/holiday, follow WTSO on social media, or call their Customer Service team at 866-957-2795.