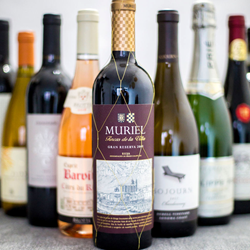 PENNSAUKEN, N.J. (PRWEB) March 04, 2020
WTSO, a leading seller of wine online, is hosting their second-ever Case Sale this spring after seeing the success and positive customer response from the first event in November 2019. The sale, which is taking place from March 30 until April 2, 2020, will give customers the opportunity to purchase 12 bottles of high-quality wine for $120.
Beginning on Monday, March 30, customers can shop the designated Case Sale page on WTSO to find a wide variety of bottles and begin creating their case of 12. Customers will find a banner on the WTSO homepage leading them to the designated sale page during the four-day period. They will have the ability to explore different types of wine and their tastes, aromas, and origins.
Springtime favorites will be especially prominent on the Case Sale page, just in time for wine lovers to stock up on high-quality wines for spring holidays and events. Customers can expect to find a top-rated selection of light reds, fruity whites, sparkling selections, and delicious seasonal rosés.
Shoppers can choose any wines from the Case Sale page, but must buy 12 (or in increments of 12) for the sale price to apply. All 12-bottle cases will be marked at $120 with free shipping. Some taxes may apply. Free shipping is only applicable on full case orders.
While all other pages and shopping methods, such as Premium Selections and Last Chance Wines, will still be available to shop during the sale, customers will only receive the Case Sale discount if they purchase all 12 bottles from the designated sale page. Carts cannot be combined with purchases from other pages.
The case discount will be applied at checkout once the customer selects all 12 of their bottles from the Case Sale page. Temperature-controlled holds and storage are also available upon request.
Wine lovers who want to restock their collection for spring are encouraged to shop the second-ever, four-day WTSO Case Sale starting on March 30 to receive 12 seasonal bottles for just $120. These high-quality wines from around the globe are ideal for spring holidays, special meals, work events, and more.
To learn more about the Case Sale visit WTSO.com, call 866-957-2795, check social media networks, or read this blog post about the event. Contact the WTSO customer service team at any time with questions.