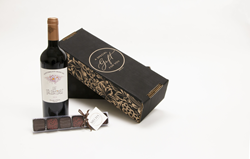 PENNSAUKEN, N.J. (PRWEB) January 23, 2020
WTSO, a leading online wine retailer, will be offering Valentine's Day gift sets for purchase leading up to the holiday. Beginning on February 3rd, customers will have the opportunity to order a decorative gift box with a WTSO bottle of Les Valentines 2016 Saint-Emilion Grand Cru and Handmade Artisan Truffles courtesy of MECHA Chocolate.
MECHA Chocolate is a small kitchen and chocolate shop based in Haddon Township, NJ, that offers sweet, salty, and savory confections. Their Artisan Chocolates are created from fine ingredients to ensure each customer gets a natural, individually handmade, and unique treat.
Located just a short few minutes from the kitchen in Pennsauken, NJ, WTSO learned about the new small business MECHA Chocolate in late 2019. Since then, the companies have established a cohesive partnership and have collaborated on a few sales and in-store events.
The minds at WTSO conceived the idea for a Les Valentines Chocolate and Wine Gift Set based on the inherent romantic qualities of wine, especially around this time of year. Seeing as the online wine retailer strives to give customers an experience with every bottle, it only seemed appropriate to create a gift that wine lovers, those with a sweet tooth, and hopeless romantics alike can enjoy.
Along with the Handmade Artisan Truffles, each elegantly-designed gift box will come with a bottle of wine: Les Valentines 2016 Saint-Emilion Grand Cru. This classic red bottle was selected because, along with having the word "Valentines" in the title, it pairs perfectly with date night meals. Like all other WTSO bottles, this Grand Cru is of the highest quality and is supported by a 100% customer satisfaction guarantee.
This Les Valentines Chocolate and Wine Gift Set will be available on the Last Chance page at wtso.com for $39.99 per box with free shipping. This gift is typically a $69.99 value. Each order comes with ground delivery to homes, vacation houses, and offices.
Those who are interested in purchasing a Les Valentines Chocolate and Wine Gift Set for a loved one this holiday are encouraged to visit WTSO starting February 3rd, while supplies last. Supplies are limited and are subject to selling out.
To pre-order the gift set before it goes on sale, call the Customer Service team at 866-957-2975. For more information about WTSO and upcoming events, visit wtso.com or "like" Wines 'Til Sold Out - WTSO.com on Facebook.