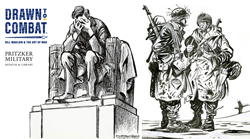 CHICAGO (PRWEB) April 08, 2021
The Pritzker Military Museum & Library is proud to announce its newest exhibit, "Drawn to Combat: Bill Mauldin & the Art of War," which will celebrate the artistic career of cartoonist Bill Mauldin. A two-time Pulitzer Prize winning artist, Mauldin's cartoons embodied the spirit of the infantryman during World War II before turning his critical pen to those in the political sphere. The exhibit will open on May 14th and will follow CDC-Guidelines for safety during the pandemic.
"We are so excited to bring Bill Mauldin's story back to the cultural forefront and introduce his talent and satire to a new audience," stated Colonel (IL) Jennifer N. Pritzker, IL ARNG (Retired), Founder of the Pritzker Military Museum & Library. "The Museum & Library holds the largest collection of his artwork and with the archival items recently donated from the Bill Mauldin Estate, we can give his cultural legacy the platform and honor it deserves."
For nearly fifty years, from World War II to the end of the Cold War, Bill Mauldin used his artistry and wit to provide commentary on the world as he saw it, earning two Pulitzer Prizes in the process. As a soldier and nationally syndicated political cartoonist, he used his voice and platform to critique the policies and actions of the nation's leaders, both military and civilian, when they came up short.
Born into poverty, Mauldin used his pen and paper to change his fortune and circumstances. His art saw him through World War II, where he used his own experiences and those of the downtrodden infantryman to present a true account of life on the front. Through his characters Willie and Joe, he was able to capture the cultural nuances of life in the Army, providing comedic relief or trepidation – depending on the viewer – while simultaneously presenting the grim reality of the war to the home front. On his return stateside, he transitioned his critique of military leaders to those leading the nation, finding success as a political cartoonist for the St. Louis Post-Dispatch, where he won his 2nd Pulitzer Prize, and then at the Chicago Sun-Times. His famous cartoon reacting to the assassination of President John F. Kennedy in 1963, 20 years after he first came to renown with his Willie and Joe cartoons, showed his continued ability to tap into the cultural zeitgeist of the time.
"What makes Mauldin so unique and forward thinking is his uncanny ability to take on complicated issues – veterans affairs, segregation, the civil rights movement, healthcare, and the economic inequalities in America – and distill it into single images that force the viewer to examine their own biases," explains Museum & Library Curator James Brundage. "His images continue to be relevant because we are still grappling with these issues and themes today."
"Drawn to Combat: Bill Mauldin & the Art of War" will feature 125 original Mauldin drawings, another 35 reproduced images, and more than 20 original artifacts. The art spans the breath of Mauldin's entire career, from 1937 – 1994, from early years learning art in Chicago, to the frontlines of WWII in Europe, to his last years at the Chicago Sun-Times.
Curator James Brundage is available for interviews. Art and an in-person media preview will also be available.
Who: The Pritzker Military Museum & Library
What: "Drawn to Combat: Bill Mauldin & the Art of War" a new exhibit offering a retrospective of the work by two-time Pulitzer Prize winning cartoonist Bill Mauldin.
When: Opening to the Public on May 14, 2021 with a Member Preview on May 13. Virtual components and the online exhibit to be available on May 14.
Where: Pritzker Military Museum & Library
104 S. Michigan Ave. Chicago, IL 60603
Hours: Tuesday – Saturday, 10am - 4pm CT
Fee: General admission to the Museum & Library is $10.00. Seniors, students and teachers with valid IDs: $8.00. Admission is free for children under 12 and Active Military.
Info: For more information on the Bill Mauldin art exhibit, "Drawn to Combat: Bill Mauldin & the Art of War," visit the website http://www.WhoIsBillMauldin.com
###
About the Pritzker Military Museum & Library
The Pritzker Military Museum & Library aims to increase the public's understanding of military history, military affairs and national security by providing a forum for the study and exploration of our military - past, present, and future - with a specific focus on their stories, sacrifices, and values. With national and global reach, these spaces and events aim to share the stories of those who served and their contributions as citizen soldiers, helping citizens everywhere appreciate the relationship between the armed forces and the civilians whose freedoms they protect. A non-governmental, non-partisan organization, the Museum & Library features diverse collections, scholarly initiatives, and public programs from its flagship center in downtown Chicago to its world-class research center and park currently under construction in Somers, Wisconsin.