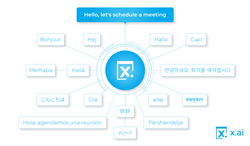 "This is a monumental step on our journey to full localization." — Dennis Mortensen, CEO and Founder
NEW YORK (PRWEB) November 17, 2020
x.ai, the leading meeting scheduling tool for individuals and teams, today announced a major update to their AI scheduling technology that lets their users request a meeting over email or Slack in any language. When the Scheduling AI is added to any email, even mid-thread, the user can write the meeting request details in any language. The Scheduling AI will instantly process the request and assemble available times to be sent to the guests, expanding the functionality that was previously only available in English.
x.ai is the first and only scheduling tool to support scheduling meetings over email in any language. This is a major advancement and further cements the unique natural language IP attached to x.ai's meeting scheduling dataset. With this update, x.ai has solved the most difficult component of the localization challenge when using email or Slack to schedule meetings.
"For the first four years of x.ai, we invested massive amounts of time at considerable cost into assembling what might be the largest meeting scheduling dataset in the world. We then trained sophisticated AI models that can understand and process complex scheduling requests. Because of this strong foundation, we're now able to go from one language to supporting 55 languages in one step," said Marcos Jimenez Belenguer, Chief Data Scientist & Founder.
x.ai supports Unicode and other internationalization standards, making it easy for people to personalize their scheduling tool, including setting up their Calendar Pages, Signatures, and Meeting Reminders in any language. x.ai supports 12- and 24-hour time formatting and lets users collect payments in 136 currencies. Premium users can also add the Scheduling AI to their domain (e.g. scheduler@nintendo.de), further localizing the experience.
"x.ai has scheduled meetings for people in 210 countries in 2020 alone. We know the demand is there — and not just from the Danish-speaking CEO. This is a monumental step on our journey to full localization," said Dennis Mortensen, CEO and Founder.
x.ai continues to see strong growth across its free and paid subscription tiers. The number of meetings scheduled each month has increased 226% between January and October of this year.
"We're seeing scheduling software become a must-have for individuals, small teams, and enterprise companies. x.ai's solution is fully operational out of the box, and it's also easily customizable to effectively automate any existing manual scheduling processes. Hands down, x.ai is the most reliable way to schedule every type of meeting," Mortensen said.
About x.ai
Founded in 2014, x.ai is a leading productivity tool powered by artificial intelligence that schedules meetings for you and your team. x.ai automates the most tedious parts of scheduling — things like finding compatible times to meet with large groups, sending follow-ups and reminders, as well as managing cancellations and reschedule requests. Learn more at x.ai. For press inquiries, please email press@human.x.ai.
About Dennis Mortensen
Dennis Mortensen is a pioneer in leveraging data to deliver business insights. A serial entrepreneur, Dennis built and successfully exited several companies before founding x.ai with Marcos J. Belenguer. Originally from Denmark, Dennis is an Associate Analytics Instructor at the University of British Columbia, the author of "Data Driven Insights," and a frequent speaker on AI, intelligent agents, and the future of work.
About Marcos Jimenez Belenguer
Marcos Jimenez Belenguer leads natural language processing at x.ai. He has 10+ years of experience in data analysis, data acquisition, and statistical analysis projects in both academia and industry. He has also authored several landmark scientific articles, including the first Higgs-boson search and discovery paper from CERN. He holds a PhD in Theoretical Physics from Universidad Autonoma de Madrid.