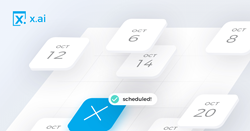 "x.ai has built a solution that truly streamlines group meeting scheduling and finally gets us beyond those tedious polls. It's the ultimate Doodle-Killer!"
NEW YORK (PRWEB) July 15, 2020
x.ai, the leading meeting scheduling tool for individuals and teams, is expanding its support for efficient group meeting scheduling with the launch of One-Time Links. Building on its powerful group scheduling over email, x.ai now also empowers meeting hosts to set up a One-Time Link for a group of people to add in their availability. The tool will automatically help guests find consensus as they select from overlapping options, then it will send the meeting invitation to all participants. One-Time Links support an unlimited number of guests, making them a go-to option for meetings with one guest as well as meetings with a large group.
The launch of One-Time Links gives x.ai users direct access to the group scheduling features of x.ai's AI assistants, Amy, Andrew, and Scheduler, a recently added neutral option. One-Time Links put the power into the meeting host's hands, giving them full control over what availability is shared, while still ensuring the process is quick and intimate for guests.
"With One-Time Links, x.ai has built a solution that truly streamlines group meeting scheduling and finally gets us beyond those tedious polls," said Justin Mitchell, Founder and CEO at Yac. "It's the ultimate Doodle-Killer!"
"We've spent the last five years tuning an AI-powered scheduling engine that lets you and your teams easily share availability according to your preferences. Asking x.ai to email all your guests to set up the meeting is an awesome experience, and we're excited for our customers to also share One-Time Links with large groups of people. We believe this is a truly liberating use of our scheduling engine, one that makes it easier to book meetings no matter who you are or what type of meeting you're hosting," said Dennis Mortensen, CEO and founder of x.ai.
x.ai's solution for scheduling group meetings goes far-beyond other options on the market:
— Smarter Times: The easy-to-use time selector responds in real-time when guests add their availability, so the tool can offer better choices to the remaining guests and increase the chances everyone can quickly agree on a time.
— Works Across Timezones: Meeting time options are localized for each guest based on their timezone, and this can be set by the host and the guest.
— Streamlined Meeting Management: The status of the meeting and who has (and hasn't) responded is always visible. The host can add and remove people at any time, or mark others as optional. Invitations are automatically sent when all of the mandatory guests have responded.
— One-Click Rescheduling: If a conflict comes up after the meeting is scheduled, the meeting can be rescheduled with the click of a button — and this work can be handed off to a scheduling assistant if needed, saving everyone time.
— Detailed Guest Information: x.ai's meeting invite includes a brief bio for every participant, including their title, company, and a link to their LinkedIn profile.
Additionally, One-Time Links are included in x.ai's free offering, which also includes unlimited meetings, unlimited meeting templates, and integrations with Google Meet, Microsoft Teams, Zoom, and Slack, among other benefits.
x.ai continues to see strong growth in new sign-ups and platform adoption across its free and paid subscription tiers. The company scheduled the most meetings in its history in June 2020, topping the high set the prior month (May 2020).
"Scheduling software continues to move into the mainstream, and the trend has been accelerated by the rapid shift to remote working around the world," Mortensen said. "Large teams and individuals are turning to x.ai to power all of the scheduling that accompanies this new paradigm."
About x.ai
Founded in 2014, x.ai is a leading productivity tool powered by artificial intelligence that lets you schedule meetings effortlessly. x.ai handles the most tedious parts of scheduling for you — things like finding compatible times, coordinating and following up with multiple guests, as well as managing cancellations and rescheduling requests. Learn more at x.ai. For press inquiries, please email press@human.x.ai.