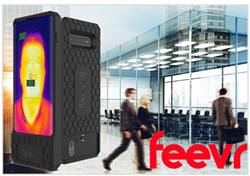 Just like 9/11 changed airport security forever, COVID-19 will forever change the way businesses take precautionary measures for the health and safety of their employees and their customers
WEST HOLLYWOOD, Calif. (PRWEB) April 29, 2020
X.Labs, a company dedicated to creating innovative visitor screening technologies that enhance public health, safety and security is proud to announce the first of many expansions to the Feevr product line called Feevr Pre-Check, an app-based system that integrates with access control to make the health and safety screening process faster and more manageable for facility security administrators.
Since the COVID-19 pandemic has forced the closure of non-essential workplaces, schools and public venues, organizations are quickly adopting health and safety screening policies and procedures to prepare for the re-opening of their buildings. X.Labs recently introduced Feevr in response to the need for an efficient, effective elevated body temperature detection device that allows the operator to screen for elevated body temperatures in a crowd from a safe distance with no human contact necessary in order to minimize risk of spreading infectious disease such as Coronavirus.
"Just like 9/11 changed airport security forever, COVID-19 will forever change the way businesses take precautionary measures for the health and safety of their employees and their customers," said Todd Dunphy, COO of X.Labs. "We care deeply about saving lives and we are continuously striving towards fine tuning our Feevr product for optimal use with additions like Pre-Check, regular updates to our app, and professional services to help implement back-to-work policies for our customers."
Thousands of Feevr devices have been sold since its introduction to the market in March of this year, helping many retailers open distribution centers and helping sports teams and corporations prepare for re-opening in a way that maintains the health and safety of their workforce, fans and visitors. Today the company is proud to announce an addition to the Feevr product line called Feevr Pre-Check, a personal thermometer and facial recognition app that allows individuals to bypass Feevr screening lines with an integrated temperature check and facial recognition system that provides safe entry codes that will sync with entry badges, ticketing and reservation systems to allow automatic entry for individuals whose body temperature is within an acceptable range.
"We are actively engaged with our Fortune 500 and public venue customers to help them navigate the 'new normal' that includes elevated body temperature detection to get them back in business," said Christian Connors, Founder and CEO of The Detection Experts and Shooter Detection Systems. "These are the same major brands that trust our gunshot detection solutions, and I'm extremely proud that they are placing their trust in our team to steer them towards affordable, best-in-class detection systems that enhance their security posture to include health and safety screening."
For more information or to order Feevr and Feevr Pre-Check, visit The Detection Experts, X.Labs' premier distributor formed by the strategic alliance between X.Labs and Shooter Detection Systems.