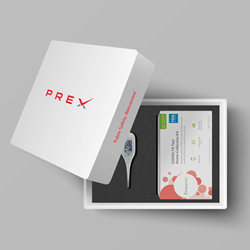 This pandemic has changed everything about the way we live, work, and gather together. With PreCheck, there's now a seamless way to bundle several essential components that can help us gather more safely in the future: testing, temperature checks, and identity verification
WEST HOLLYWOOD, Calif. (PRWEB) July 22, 2020
X.Labs, the leader in next-generation public safety threat detection and digital healthcare technologies, today introduced a novel product that incorporates virus test results, wellness and symptom survey questions, temperature readings, and other health data in an app designed to help keep schools, workplaces, concerts, stadiums, sporting arenas, amusement parks and large gatherings safer from COVID-19.
PreCheck by X.Labs is the first product to bundle the following components for safer, seamless health and safety screening and tracking in real-time, allowing for automated pre-approved entry into schools, large events and workplaces:

The Everlywell COVID-19 Test Home Collection Kit, an FDA-authorized product containing a diagnostic PCR test that provides results in as little as 24-48 hours from the time your sample is received by a certified lab
An FDA-approved bluetooth personal thermometer, a high-quality digital thermometer which shows whether your temperature is normal or elevated and records that information in the PreCheck app
Customizable in-app wellness and symptom survey which can be tailored to fit the requirements of the participating workplace or venue
PreCheck displays an individual's COVID-19 test results, temperature history, and other health data with a workplace or venue's customized Wellness Survey, which is created to further screen an individual against the business or venue's health and safety requirements for entry into a building or space, and comply with any mandated state tracking and reporting requirements.
How It Works
Individuals can request an Everlywell COVID-19 Test Home Collection Kit on the PreCheck website. Those who qualify will have a test ordered for them by a physician from Everlywell's third-party telehealth partner. PreCheck by X.Labs users who qualify can use the Everlywell COVID-19 Test Home Collection Kit at home, receive their results digitally in as little as 24-48 hours of their sample being received by the lab, and take their temperature using the included personal thermometer at a predetermined time before accessing a venue. PreCheck combines the COVID-19 test results, the individual's temperature, and wellness surveys to produce a QR code. The venue's requirements will determine if the QR code produces a passable result for safe entry, or a code that places the individual in a status of requiring further screening. Participating workplaces or venues will use READY, an X.Labs platform that customizes the building's COVID-19 policy on-demand by allowing the administrator to set acceptable temperature ranges, create timelines for COVID-19 test results, and create a Wellness & Symptom Survey to help comply with visitor health, travel and contact tracing requirements. The venue can select whether they integrate only a single or multiple functionalities of PreCheck for their operating environment.
Once individuals arrive at an event with a QR code from their PreCheck app, they can bypass health and safety screening lines and gain entry by presenting their code in a contact-free manner. X.Labs has also partnered with some schools, workplaces, venues and major event organizers to automatically transmit individuals' temperature and test results to user-selected destinations. The PreCheck app also makes it easy for consenting individuals to opt into X.Labs' optional contact tracing program.
Once an individual has PreCheck by X.Labs, they can use their personal thermometer and app to seamlessly gain entry into a variety of participating events that require temperature checks and/or COVID-19 tests. Future integrations will include integration of COVID-19 vaccine records, once a vaccine is available. Additional COVID-19 test home collection kits, if needed, can be ordered on Everlywell.com.
How to Purchase
Interested schools, workplaces, airlines, venues, sporting arenas, teams, and other groups that oversee large events or mass transit of people can contact X.Labs at PreCheck.tech to purchase or to learn how they can incorporate PreCheck into their existing employee or end-user applications.
"We believe there has never been a more important moment to work together to solve one of the world's most pressing problems. Through close cooperation and collaboration with Everlywell, we hope to harness the power of technology to help countries around the world slow the spread of COVID-19 and accelerate the return of everyday life." said Todd Dunphy, COO of X.Labs.
"This pandemic has changed everything about the way we live, work and gather together. A seamless way to enable testing for those who are eligible and conduct temperature checks with integrated identity verification is essential to reopening the country," said Julia Cheek, CEO and Founder of Everlywell. "We look forward to working with X.Labs to help deliver the promise of safer workplaces and gatherings."
"This pandemic has changed everything about the way we live, work, and gather together. With PreCheck, there's now a seamless way to bundle several essential components that can help us gather more safely in the future: testing, temperature checks, and identity verification," said Julia Cheek, CEO and Founder of Everlywell. "We look forward to working with X.Labs to help deliver the promise of safer workplaces and gatherings".
About X.Labs
X.Labs is the leader in next-generation public safety threat detection and digital healthcare technologies and is a company dedicated to the development of cutting edge, high-speed checkpoint systems that detect emerging threats to civilians, buildings and law enforcement. The company's patented thermography products are uniquely capable of detecting elevated temperature with their industry leading, mobile based fever detection product Feevr. The company's revolutionary PreCheck app combines an individual's temperature reading, viral testing and other health and safety data that helps keep buildings safer and businesses in compliance. Their patented millimeter wave detection technology X1, and XLe for Law Enforcement, detects concealed threats including weapons and explosive devices combined with advanced facial recognition and gunshot detection capabilities. X.Labs customers include Fortune 100 companies, entertainment venues, schools, international airports, airlines, stadiums, corporations, hospitals, large-scale events and national landmarks around the globe. Visit XLabs.tech for more information.
About Everlywell
Everlywell believes consumers deserve access to affordable lab tests and insightful, digitally-enabled results with actionable next steps. The company connects consumers to lab partners offering a suite of validated lab tests including Cholesterol, Heart Health, Fertility, STIs, Lyme Disease, Testosterone, Thyroid and more. Prices are straightforward starting at $49 and tests are generally covered by Flexible Spending and Health Savings Accounts. Physician-reviewed, actionable test results from CLIA-certified labs are provided within days of sample receipt. The company also provides testing for health plans, healthcare organizations, and employers, including some of the largest health plans in the nation.
The Austin-based company was founded in 2015 and is advised by a Scientific Advisory Board that includes some of the nation's top scientists from Harvard, MIT, Google and NYU. Everlywell was selected as one of Fast Company's Most Innovative Companies in 2019.
For more information please visit http://www.everlywell.com.
For more information, contact:
X.Labs
Amy Doyle
Media@xlabs.tech
Media@everlywell.com
Important information about the Everlywell COVID-19 Test Home Collection Kit:
This home collection kit has not been FDA cleared or approved.
This home collection kit has been authorized by FDA under an EUA.
This home collection kit has been authorized only for the home collection and maintenance of nasal swab specimens as an aid in detection of nucleic acid from SARS-CoV-2, not for any other viruses or pathogens.
This home collection kit in combination with the authorized test is only authorized for the duration of the declaration that circumstances exist justifying the authorization of emergency use of in vitro diagnostic tests for detection and/or diagnosis of COVID-19 under Section 564(b)(1) of the Act, 21 U.S.C. § 360bbb-3(b)(1), unless the authorization is terminated or revoked sooner.