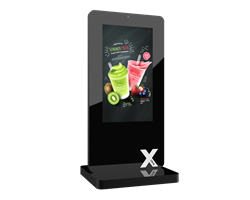 The breadth and pace of our product and technology development are unmatched in the threat intelligence space and we are looking forward to sharing our vision in a truly exciting way that demonstrates our commitment to redefining the security experience
WEST HOLLYWOOD, Calif. (PRWEB) June 22, 2020
X.Labs, a market leader in public safety detection and digital healthcare technology announced the rebranding of its flagship patented concealed weapon detection technology, formerly called SWORD, to X1. The rebranding strategy marks a significant shift in direction from focusing solely on weapons detection to incorporating various applications that address the detection of the many modern security threats facing all facility owners and operators.
"Over the last three years our business has grown at a rate far exceeding our expectations," said Todd Dunphy, COO and Co-Founder of X.Labs. "During this time, we've added many new features to the X1 System that makes this offering something that is much more than just a weapons detection device. Undertaking this rebrand at this point in time is the key driver to our future expansion."
The rebranding campaign follows a period of rapid growth for the company and is a testament to X.Labs' flexibility, foresight and ability to quickly innovate to meet emerging public safety threats with affordable, reliable detection and reporting solutions.
X1 is a full-featured weapons detection system that combines patented millimeter wave technology, facial recognition powered by FaceFirst and advanced gunshot detection capabilities in partnership with gunshot detection market leader, Shooter Detection Systems. X1 also includes the company's thermal imaging platform that is currently in use within Feevr, X.Labs' best-selling product being used by major corporations, schools, and public venues to scan individuals for elevated skin temperature.
In 2019 the company also announced a strategic partnership with Vuzix, which will provide customers the ideal wearable smart glass solution to stay engaged with their environment, while also simultaneously receiving critical alerts related to safety threats from near or across the venue.
Powered by the company's data analytics platform called READY, X1 offers a high-speed checkpoint system that detects a wide range of both metallic and non-metallic weapons at a distance from up to 20ft away.
By combining the latest in detection technology to an IoT connected TV display, the company has opened the path to allow smart advertising with smart sensing technology which allows the client to generate revenue from the device and bring the long term acquisition cost down to zero.
"The breadth and pace of our product and technology development are unmatched in the threat intelligence space, and we are looking forward to sharing our vision in a truly exciting way that demonstrates our commitment to redefining the security experience," said Dunphy.
The concealed weapon detection technology was first unveiled in 2018 as SWORD, with initial production prototypes that were showcased at the January 2020 Consumer Electronics Show in Las Vegas. At that time the company also unveiled a special law enforcement edition – XLe – which in addition to the standard features within X1, includes a public address system, crowd barrier and reinforced Perspex acrylic for the information screen. This allows law enforcement officials to address large crowds in a safe and responsible manner and also provides them the capability to display critical incident information related to public safety.
As the company pivoted to a larger form factor, they took into consideration the feedback received from clients during their testing phase, and developed features that address the rapidly changing landscape that has created a 'new normal.'
Both X1 and XLe products are expected to ship October 2020.
To learn more about the technology or to pre order, go to http://www.crimestop.tech or send an email to info@crimestop.tech
About X.Labs
X.Labs is the leader in next-generation public safety threat detection technologies. The company is dedicated to delivering innovative technologies for a safer world. X.Labs customers include Fortune 500 companies, entertainment venues, schools, international airports, stadiums, corporations, hospitals, large-scale events and national landmarks around the globe.