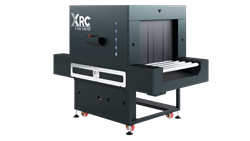 ISTANBUL, Turkey (PRWEB) September 29, 2021
The world continues to struggle with the Covid-19 pandemic almost 2 years after the virus emerged from Wuhan, China. Even with multiple vaccines being used to inoculate millions of people around the world, the virus and new variants of it continue to spread and kill thousands of people daily. This has led to travel restrictions being re-introduced in countries and airports all around the world and has made it abundantly clear that new technologies are needed in airports and transportation hubs in order to keep people safe and to minimize the spread of SARS-Cov-2 and other pathogens.
X-Ray Center ("XRC®"), a leading x-ray security equipment and technology company, announced today that the Turkish Ministry of Health has granted approval of XRC's CleanBlue™ UV-C Baggage cleaning system. CleanBlue™ inactivates 99.9997% of SARS-Cov-2 virus in five seconds, and is the first laboratory validated system of its kind in the world. XRC produces x-ray security screening systems that are deployed in airports and other public spaces in over 40 countries in the world and is one of only a handful of manufacturers that produces TSA and ECAC approved systems. "We have decades of knowledge and expertise when it comes to airport security and safety, and we felt that it was up to us to develop systems that could be integrated into airports and other transportation hubs to combat Sars-Cov-2" stated Kami Havluciyan, CEO of XRC. "SARS-Cov-2 has disrupted every aspect of our lives, with domestic and international travel being hit perhaps the hardest. Because we have the technical capability to do so, we felt it was our duty to develop and engineer products that make travel safe not just from a security perspective but also from a health perspective," stated Mr. Havluciyan.
Bags, luggage, and parcels can carry germs and viruses that can be transmitted from person to person and give rise to public health crises like the global COVID-19 pandemic. In fact, it was air travel that allowed SARS-Cov-2 to escape its site of origin and spread all over the world. It is therefore critical to properly clean luggage entering public spaces, particularly airports, train stations and other domestic and international transportation hubs in order to minimize the risk of spreading infectious agents, such as SARS-Cov-2.
Ultraviolet ("UVC") rays kill viruses and bacteria by destroying the DNA or RNA structure of microorganisms. XRC's patent pending CleanBlue™ system delivers a powerful array of UVC light to all of the surfaces of luggage and packages that pass through the device, including the top, bottom and sides, resulting in 99.9997% reduction in SARS-Cov-2 and 99.9% reduction in bacteria within 5 seconds based on a conveyor speed of 0.2m/sec, which matches the conveyor speed of most x-ray systems in airports. "CleanBlue™ is a manifestation of the hard work and ingenuity of XRC's talented engineers and scientists to produce the first laboratory validated system of its kind to be tested specifically on SARS-Cov-2 and to integrate perfectly with x-ray scanning systems at airports," explained Murat Ozdemir, head of R&D at XRC. "By deploying CleanBlue™ in airports and transportation hubs around the world, we hope to make these spaces safer for travelers and those working in the transportation field," stated Mr. Ozdemir.
With the Covid-19 pandemic continuing to rage in every corner of the world, we should expect to see more innovation in biosecurity and safety in the coming months and years, not just to protect passengers but to protect the people who serve those passengers. And although vaccines perhaps constitute the world's first line of defense against SARS-Cov-2, they cannot work alone. Technology like XRC's CleanBlue™ UV-C Baggage system will be an important component in the arsenal against the Covid-19 pandemic and future pandemics caused by new viruses and pathogens.
ABOUT X-RAY CENTER:
XRC was established in 1998 with the goal of protecting the world from danger and illness. In 2010, XRC began developing and manufacturing its own innovative brand of x-ray security screening systems. Today, XRC is the only x-ray security screening system manufacturer in Turkey, and one of only a handful of manufacturers in the entire world who produces x-ray security screening systems that have been tested and approved by the United States Transportation Security Administration (TSA) and the European Civil Aviation Conference (ECAC). TSA and ECAC employ the highest testing standards in the industry to ensure the protection of the world's transportation systems. In just one decade, XRC has grown from a small national manufacturer to one that has over thirty different products deployed in every continent of the world except Antarctica.
https://www.x-raycenter.com
https://www.linkedin.com/company/x-ray-center-xrc
Media Contact:
Mikael Havluciyan
mike@x-raycenter.com
+1 619-990-5248