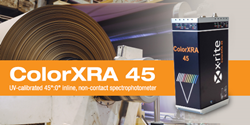 When inline instruments are used with closed loop color control software, customers see an average return on investment (ROI) in six months. Paper mills can improve their bottom line while keeping color and brightness in harmony from laboratory measurement to pulp, wet sheet, and before reel up.
GRAND RAPIDS, Mich. (PRWEB) April 19, 2021
X-Rite Incorporated and Pantone LLC, global leaders in color science and technology, today announced the new ColorXRA 45 inline spectrophotometer designed to meet the unique needs of the paper industry. The ColorXRA 45 leverages a new optical and mounting design for improved stability and accuracy making it ideal for identifying color shifts early and throughout the production of paper. When paired with the X-Rite ESWin Closed Loop Color Control software, the ColorXRA 45 delivers a complete color management system for monitoring color and making automatic color adjustments without stopping manufacturing.
"Our most reliable, accurate and connected inline color measurement system, the ColorXRA 45, removes the guesswork around color control on a variety of paper including laminated, testliner, security, colored or white papers, with or without OBA," said Michael Saeger, General Manager, Inline Measurement Solutions, X-Rite. "As paper mills embrace digital transformation, ColorXRA 45 together with ESWin Closed Loop Color Control software provide operators with the real-time color information required to avoid costly production line errors. This helps manufacturers reduce start-up times and cut shade change times by up to 50 percent, save on dye usage, and minimize waste and rework while saving energy and water resources to meet sustainability initiatives."
The ColorXRA 45 is a non-contact inline spectrophotometer with an excellent spectral resolution of 1 nm. The instrument can measure color at multiple points in the paper manufacturing process including before reel up, during liquid paper stock, or between the press and dryer section. The ColorXRA 45 system features:
-Redesigned mount and frame that is more stable at the measurement point, less sensitive to failures and can automatically clean the backing tile. This shortens operator cleaning times and simplifies maintenance.

Dirt detection system warns operators when the device needs cleaning and calibration to minimize rework and downtime in busy industrial environments.
New lamp and optical design deliver improved color accuracy by providing circumferential illumination to minimize the effects of surface texture differences.
Temperature sensor to measure temperature dependencies on color for improved lab correlation and reduced color variance.
Fast start-up times and shorter transition times for minimal downtime.
Compatible with legacy data for a seamless transition to the new system.
Connectivity to distributed control system (DCS) and enterprise resource planning (ERP) to support Industry 4.0 initiatives.
The ColorXRA 45 uses a standardized 45°:0° measurement geometry that closely correlates with lab measurements to maintain tight color tolerances without cutting a sample. It can measure base color and optical brighteners separately for optimal control over each component and maintains stable measurements when base weight or opacity change.
The ColorXRA 45 works with ESWin Closed Loop Color Control software to automatically and precisely control color to a target shade on continuous process manufacturing lines. ESWin uses spectral data captured by the ColorXRA 45 to calculate the adjustment of dyes and optical brightening agents and automatically adjust the dye pumps to achieve the target color.
"When inline instruments are used with closed loop color control software, customers see an average return on investment (ROI) in six months. Paper mills can improve their bottom line while keeping color and brightness in harmony from laboratory measurement to pulp, wet sheet, and before reel up," continued Saeger.
The ColorXRA 45 is also available as a benchtop model, the ColorXRA Lab for use in the laboratory. For more information on the ColorXRA 45 visit https://www.xrite.com/colorxra-45
About X-Rite
Founded in 1958, X-Rite Incorporated is a global leader in the science and technology of color and appearance. With Pantone, X-Rite employs more than 800 people in 11 countries. The company's corporate headquarters are located in Grand Rapids, Mich., with regional headquarters in Europe and Asia and service centers across Europe, the Middle East, Asia, and the Americas. X-Rite offers a full range of solutions used by manufacturers, retailers, printers, photographers and graphic design houses to achieve precise management and communication of color and appearance throughout their processes. X-Rite products and services are recognized standards in the printing, packaging, photography, graphic design, video, automotive, paints, plastics, textiles and medical industries. For further information, please visit http://www.xrite.com.
About Pantone
Pantone provides the universal language of color that enables color-critical decisions through every stage of the workflow for brands and manufacturers. More than 10 million designers and producers around the world rely on Pantone products and services to help define, communicate and control color from inspiration to realization – leveraging advanced X-Rite technology to achieve color consistency across various materials and finishes for graphics, fashion and product design. Pantone Standards feature digital and physical color specification and workflow tools. The Pantone Color Institute™ provides customized color standards, brand identity and product color consulting as well as trend forecasting inclusive of Pantone Color of the Year, Fashion Runway Color Trend Reports, color psychology and more. Pantone B2B Licensing incorporates the Pantone Color System into different products and services, enabling licensees to communicate and reproduce certified Pantone values and improve efficiencies for their users. Pantone Lifestyle brings color and design together across apparel, home, and accessories. Learn more at http://www.pantone.com
# # #
©2021 X-Rite, Inc. All rights reserved. X-Rite is a registered trademark of X-Rite, Inc. All other trademarks are the property of their respective owners. PANTONE® and other Pantone trademarks are the property of Pantone LLC.