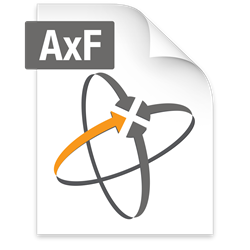 With AxF, Dassault Systèmes' customers will be able to create physically correct, virtual material libraries that can be accessed across the entire product workflow, from design, through production and quality control.
GRAND RAPIDS, Mich. (PRWEB) March 06, 2019
X-Rite Incorporated, a global leader in color science and technology, and Pantone LLC, today announced a partnership with Dassault Systèmes to support the Appearance Exchange Format (AxF™). Developed by X-Rite, AxF is a vendor-neutral format that enables the communication of all aspects of a physical material's appearance in a single file to improve design and supply chain virtualization. AxF will be supported for digital measured material representations by Dassault Systèmes solutions, making it easier to share measured material information across teams to drive product innovation and improve customer experiences.
Dassault Systèmes' 3DEXPERIENCE platform is a business experience platform that integrates the company's world-leading 3D digital design, analysis, simulation and intelligence applications in a collaborative interactive environment to transform the way products are designed, produced and supported. The new partnership will provide Dassault Systèmes' customers with a standard way to communicate color and appearance material. This helps improve collaboration, speed design creation and reduce production development costs and time to market.
AxF is the foundational component of the X-Rite Total Appearance Capture (TAC™) ecosystem, a solution that brings a new level of accuracy and efficiency to the capture, communication and visualization of physical materials. Traditionally, capture and rendering of complex materials such as special effects paints, meshes and synthetic fabrics have been a time-consuming manual and inaccurate process. The TAC ecosystem addresses this challenge with a new level of precision in material scanning coupled with an ability to share the resulting data, via AxF, across an expanding set of visualization and PLM tools.
"With AxF, Dassault Systèmes' customers will be able to create physically correct, virtual material libraries that can be accessed across the entire product workflow, from design, through production and quality control," says Dr. Francis Lamy, Executive Vice President and Chief Technology Officer, X-Rite and Pantone. "For the first time, leading automotive, aerospace, architecture, apparel and consumer goods companies will be able to share material libraries that include color and appearance data between departments, suppliers and partners to accelerate business innovation."
TAC Captures Physical Material Appearance for Photorealistic 3D images
The TAC ecosystem enables product designers, 3D artists, material specifiers and marketers to create digital materials representations that simulate physical appearance characteristics such as color, texture, gloss, refraction, transparency, special effects (sparkles) and reflection properties. This helps streamline the overall design and manufacturing process and deliver the most compelling, photorealistic 3D visuals possible.
The TAC ecosystem is comprised of the TAC7 scanner, PANTORA™ Material Hub desktop application, and Virtual Light Booth (VLB). Physical material samples are scanned using the TAC7 scanner, which captures appearance properties digitally to create AxF files that store appearance data. The files are stored, managed, viewed and edited in the PANTORA desktop application.
The Virtual Light Booth is the industry's first immersive 3D visualization environment for evaluating material appearance. It allows users to accurately and efficiently visualize and compare 3D digital material renderings side-by-side with physical samples. This helps ensure consistency between digital prototypes and final physical products and empowers designers to make more informed material selection decisions reducing approval cycles and time to market.
For more information regarding the TAC ecosystem, please visit https://www.xrite.com/categories/appearance/total-appearance-capture-ecosystem.
About X-Rite
Founded in 1958, X-Rite Incorporated is a global leader in the science and technology of color and appearance. With Pantone, X-Rite employs more than 800 people in 11 countries. The company's corporate headquarters are located in Grand Rapids, Mich., with regional headquarters in Europe and Asia and service centers across Europe, the Middle East, Asia, and the Americas. X-Rite offers a full range of solutions used by manufacturers, retailers, printers, photographers and graphic design houses to achieve precise management and communication of color and appearance throughout their processes. X-Rite products and services are recognized standards in the printing, packaging, photography, graphic design, video, automotive, paints, plastics, textiles and medical industries. For further information, please visit http://www.xrite.com. For the latest news, information, connect with X-Rite on LinkedIn, Twitter, and Facebook.
About Pantone
Pantone provides the universal language of color that enables color-critical decisions through every stage of the workflow for brands and manufacturers. More than 10 million designers and producers around the world rely on Pantone products and services to help define, communicate and control color from inspiration to realization – leveraging advanced X-Rite technology to achieve color consistency across various materials and finishes for graphics, fashion and product design. Pantone Standards feature digital and physical color specification and workflow tools. The Pantone Color Institute™ provides customized color standards, brand identity and product color consulting as well as trend forecasting inclusive of Pantone Color of the Year, Fashion Runway Color Trend Reports, color psychology and more. Pantone B2B Licensing incorporates the Pantone Color System into different products and services, enabling licensees to communicate and reproduce certified Pantone values and improve efficiencies for their users. Pantone Lifestyle brings color and design together across apparel, home, and accessories. Learn more at http://www.pantone.com and connect with Pantone on Instagram, Facebook, Pinterest, and LinkedIn.
©2019 X-Rite, Inc. All rights reserved. X-Rite, TAC, AxF and PANTORA are registered trademarks of X-Rite, Inc. PANTONE® and other Pantone trademarks are the property of Pantone LLC. All other trademarks are the property of their respective owners.