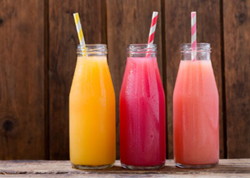 Any change in lot-to-lot color can make a big difference in the color of the final mix, especially when dealing with natural ingredients like fruit which can vary in color. At X-Rite, we offer solutions designed to meet the specific needs of measuring the color of liquids.
GRAND RAPIDS, Mich. (PRWEB) August 12, 2020
X-Rite Incorporated and Pantone LLC, global leaders in color science and technology, have expanded its portfolio of color management solutions for the beverage industry to include orange juice measurement. The company now offers a range of measurement instrumentation and quality control software to easily measure juices, dairy, sports drinks, beer, spirits, and other liquids. This helps manufacturers achieve color standards and batch-to-batch consistency. In addition, X-Rite will host a webinar on Wednesday, August 26 at 10:00 EDT to discuss best practices for measuring beverages, including orange juice and other liquids. Register at https://www.xrite.com/learning-color-education/webinars/measure-color-orange-juice.
"Beverage color is one of the more difficult things to control during production," said Michael Beering, Product Manager, X-Rite and Pantone. "Any change in lot-to-lot color can make a big difference in the color of the final mix, especially when dealing with natural ingredients like fruit which can vary in color. At X-Rite, we offer benchtop instrumentation, attachments, and software designed to meet the specific needs of measuring the color of liquids. This helps beverage companies ensure product quality throughout the entire manufacturing process for maximum consumer appeal."
Measuring Drinks and Other Liquids
For a complete color quality control solution, beverage manufacturers can use X-Rite's Ci7000 Series of benchtop spectrophotometers with Color iQC software. The Ci7000 Series utilizes a magnetic fixture to hold a test tube for liquid measurement, enabling operators to quickly and easily measure liquids without contaminating the instrument or the sample. The Series includes the Ci7600 which offers both reflectance and transmission measurements for opaque, transparent, and translucent liquids, as well as the Ci7520 and Ci7500, which both offer reflectance measurements for liquids. The Ci7000 Series has internal humidity and temperature sensors to identify how the temperature affects color data. These instruments provide a complete audit trail for each measurement. In addition, the Ci7600 and Ci7520 can now be used for orange juice color measurement and grading.
Color iQC software is a unique, job-oriented color quality control solution that streamlines color measurement, reporting, and recording to maintain a centralized, cost-efficient process. This helps to reduce waste, improve efficiency, and supports faster color evaluation.
For more information on X-Rite solutions for the beverage industry visit https://www.xrite.com/categories/benchtop-spectrophotometers/ci7x00-family
About X-Rite
Founded in 1958, X-Rite Incorporated is a global leader in the science and technology of color and appearance. With Pantone, X-Rite employs more than 800 people in 11 countries. The company's corporate headquarters are located in Grand Rapids, Mich., with regional headquarters in Europe and Asia and service centers across Europe, the Middle East, Asia, and the Americas. X-Rite offers a full range of solutions used by manufacturers, retailers, printers, photographers and graphic design houses to achieve precise management and communication of color and appearance throughout their processes. X-Rite products and services are recognized standards in the printing, packaging, photography, graphic design, video, automotive, paints, plastics, textiles and medical industries. For further information, please visit http://www.xrite.com.
About Pantone
Pantone provides the universal language of color that enables color-critical decisions through every stage of the workflow for brands and manufacturers. More than 10 million designers and producers around the world rely on Pantone products and services to help define, communicate and control color from inspiration to realization – leveraging advanced X-Rite technology to achieve color consistency across various materials and finishes for graphics, fashion and product design. Pantone Standards feature digital and physical color specification and workflow tools. The Pantone Color Institute™ provides customized color standards, brand identity and product color consulting as well as trend forecasting inclusive of Pantone Color of the Year, Fashion Runway Color Trend Reports, color psychology and more. Pantone B2B Licensing incorporates the Pantone Color System into different products and services, enabling licensees to communicate and reproduce certified Pantone values and improve efficiencies for their users. Pantone Lifestyle brings color and design together across apparel, home, and accessories. Learn more at http://www.pantone.com
# # #
©2020 X-Rite, Inc. All rights reserved. X-Rite is a registered trademark of X-Rite, Inc. All other trademarks are the property of their respective owners. PANTONE® and other Pantone trademarks are the property of Pantone LLC.